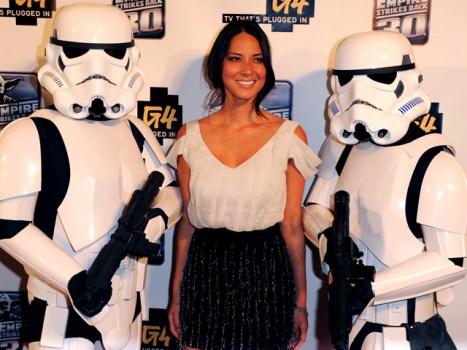 Getty Images
Olivia Munn's storming network TV with a new sitcom.
Geeks and gamers agree "Attack of the Show's" silly/sexy Olivia Munn's all kinds of perfect. Now she's hoping to seduce the sitcom crowd with an NBC series called "Perfect Couples."
"It's a single camera half hour comedy from the people who did 'Friends' and '30 Rock,'" Munn tells us. "Every sitcom that you ever loved, it's just like that! Like 'Mr. Belvedere': just like that. And 'Small Wonder': yeah, I'm a robot."
Calm down, nerds. She's not a robot.
"The premise is about three couples, six people, and how they all interact and really what I think is that it's more of a moment to really spotlight people," she says. "Our writers are so fantastic that they really show people in their very horrible states, and in a way that we're all going to go 'Yeah, I'm kind of like that. I say those things and I do those things.' But we do it unapologetically and with a wink."
Munn's never shied away from goofing on her sexier side, and in her series, which bows in January, she'll bring that same sensibility to relationships. "I believe that if we're all honest in the beginning about our faults, we can kind of embrace them and relate to each other in that way. I think the show has that really un-PC thing that I really embrace and like a lot."
Her co-star Christine Woods ("FlashForward") is impressed by how seamlessly Munn's brings her saucy sensibility to acting. "She's known so much for being a comedian and a host, but this show really showcases her acting ability. People are going to be very pleasantly surprised by what she brings to the table as an actress. As a woman, I love her so much because I think that she paves the way for sexy ladies trying to be funny. I had respect for her before I even met her, but getting to know her is just never a dull moment."