Sink drops bid to become Florida's next governor.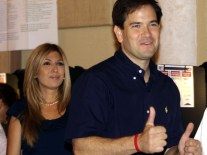 AP
Network projections have the Miami-native packing his tea bags for Washington.
Getty Images
Nasty campaign ends with GOP holding on to seat.
Rick Scott will donate the governor's $130,000 salary to charity.
All the local winners and losers and the race that's too close to call.
Florida's Lee County ensures voting runs smoothly.
U.S. Senator-elect Marco Rubio was once considereda long shot, but by the time of his victory speech...