Sunday, Aug 5, 2012 | Updated 4:02 PM EDT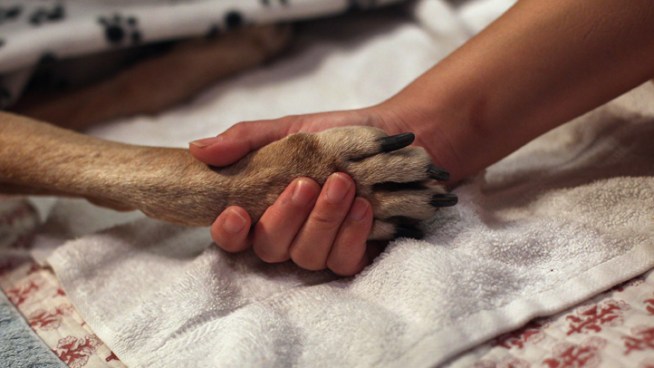 Getty Images
Tomo McLoyd holds the paw of her dog Rocky, 14, as veterinarian Wendy McCulloch euthanizes the pet at their apartment on May 9, 2012 in New York City. McLoyd had made the difficult decision to call McCulloch to perform the procedure after the pet could no longer walk. End of life issues have become increasingly important for pet owners, as advanced medical treatments and improved nutrition are extending pets lives well into old age. McCulloch runs Pet Requiem, a home veterinary service designed to provide geriatric care and in-home euthanasia for dying pets in the New York and New Jersey area. Many pet owners are choosing such in-home care to try and provide a humane and compassionate "good death" for their beloved pets.
A Miami-Dade Commissioner is mourning the death of his dog that he adopted from New Orleans following Hurricane Katrina.
Jose "Pepe" Diaz issued a release last week expressing his sadness over the death of his dog Katrino, the Miami Herald reported.
Diaz adopted Katrino when he visited New Orleans to deliver supplies to the victims of the hurricane.
"It would have broken my heart to leave him there that day," Diaz said in the release, according to the Herald.
"Today, my family is saddened by the loss of Katrino, but we will always cherish the wonderful memories of the seven years we spent together," he continued.