Saturday, Aug 18, 2012 | Updated 4:01 PM EDT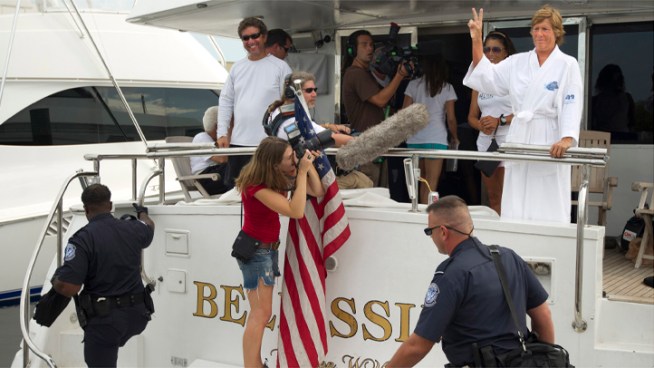 Getty Images
In this handout provided by Florida Keys News Bureau, Diana Nyad (R) gestures as U.S. Customs and Border Protection agents board her support boat, following the 61-year-old marathon swimmer's failed attempt to swim from Cuba to the Florida Keys August 9, 2011 in Key West, Florida. Nyad's second attempt in 33 years to swim from Cuba to Florida ended after 29 hours because of wind, currents and health problems.
Diana Nyad says she's ready again to try swimming from Cuba to Florida.
The 62-year-old marathon swimmer tweeted Thursday that she was aiming to begin another crossing of the Florida Straits on Sunday morning.
Woman, 61, Attempts 102-Mile Swim From Cuba to Keys
It will be Nyad's fourth attempt to swim from the Caribbean island just 90 miles off Key West, where she has spent weeks training and monitoring the weather for a favorable window.
Nyad Halts Attempted Swim From Cuba
Nyad first tried to make the crossing in 1978 as a 28-year-old. She swam inside a steel shark cage for about 42 hours before quitting.
She attempted the same swim without the shark cage twice in two months last summer. An asthma attack stopped her after 29 hours, and then jellyfish stings cut short the last attempt after 40 hours.