Manti Te'o Question of the Day
57% of NBC 6 voters said they don't believe Manti Te'o's story after his interview with Katie Couric
Thursday, Jan 24, 2013 | Updated 11:44 PM EDT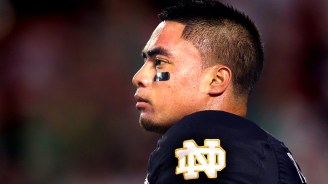 Getty Images
Manti Te'o #5 of the Notre Dame Fighting Irish warms up prior to playing against the Alabama Crimson Tide in the 2013 Discover BCS National Championship game at Sun Life Stadium on January 7, 2013 in Miami Gardens, Florida.
Fifty-seven percent of NBC 6 voters said in a survey Thursday that they do not believe Manti Te'o's story after his interview with Katie Couric.
Thirty-four percent said they do believe the Notre Dame football player, and 9 percent said they were not sure.
Click here to read today's story on Manti Te'o.