NC Man Wins Hemingway Look-Alike Contest
Greg Fawcett of Cornelius bested 139 other ``Papa'' Hemingway Look-Alike contestants
Sunday, Jul 22, 2012 | Updated 2:04 PM EDT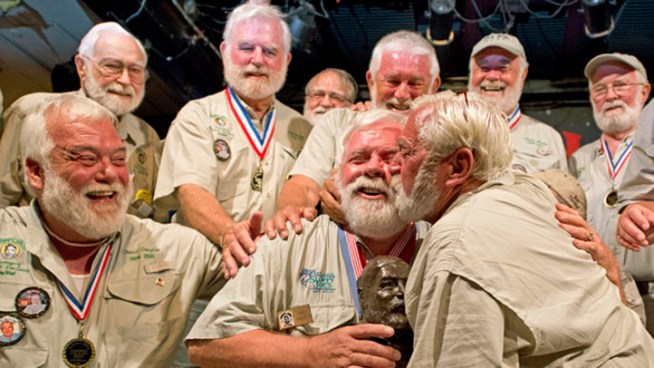 Andy Newman/Florida Keys News Bureau
Greg Fawcett, center front, gets a congratulator smooch from Matt Gineo, right, after being crowned the winner of the 2012 "Papa" Hemingway Look-Alike Contest Saturday, July 21, 2012, in Key West, Fla. Gineo won the contest in 2011. Fawcett of Cornelius, N.C., bested 139 other Ernest Hemingway look-alikes that competed in preliminary and final rounds at Sloppy Joe's Bar. The contest was a highlight event of the island city's Hemingway Days celebration that concludes Sunday, July 22.
A white-bearded, 64-year-old North Carolina investment banker has won Key West's annual Ernest Hemingway look-alike contest.
Greg Fawcett of Cornelius bested 139 other ``Papa'' Hemingway Look-Alike contestants during his 10th attempt Saturday. It also marked the 113th anniversary of the late author's birth.
Competitors in sportsman's attire competed at one of Hemingway's favorite bars, Sloppy Joe's. A panel of former winners judged the contest.
Fawcett said he shares Hemingway's enjoyment of hunting, fishing and cocktails but not his writing talent.
Semi-finalists included Michael Groover of Savannah, Ga., who was cheered by his wife, Food Network personality Paula Deen.
The competition was a highlight of the annual Hemingway Days festival that also included a marlin tournament, short story competition and a whimsical ``Running of the Bulls.''