Thursday, Aug 9, 2012 | Updated 11:38 AM EDT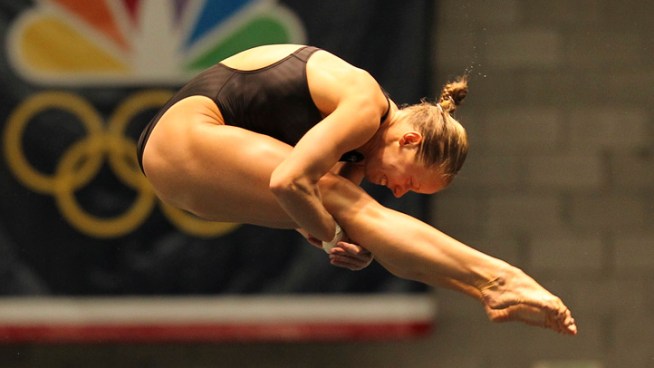 Getty Images
Brittany Viola dives in the 10m platform final at the 2012 U.S. Olympic Team Trials at the Weyerhaeuser King County Aquatic Center on June 24, 2012 in Federal Way, Washington. Viola finished first in the event.
There was no sweet music on the diving platform for University of Miami graduate Brittany Viola.
Both Viola, the daughter of former star pitcher Frankie "Sweet Music" Viola, and American Katie Bell did not qualify for the 10-meter platform finals on Thursday.
"Tough day for USA on the platform," Frank Viola tweeted. "Both (at)BrittanyViola and Katie Bell failed to qualify for finals. Thanks for support."
Defending champion Chen Ruolin dominated the semifinals in her bid to restore China to the top of the diving podium after an unexpected loss. Chen was one of only two divers to score more than 80 points with a single dive — but she did it four times — to finish with a total of 407.25 points.
The diving finals will take place at 2 p.m. ET.
Viola, 25, is a two-time national champion that missed making the Olympic team twice. Though she was able to qualify in 2012, she fell short, placing 15th.
Prior to the Olympics, Viola told NBC 6 she always counted on the support of her dad.
"He's been a huge encourager telling me to just be me, have fun," she said about her father. "He'll love me whether I'm last, first or don't even compete. His love doesn't change."