Man Tries to Sneak into Spain Disguised as Car Seat
Officers call his efforts "unique and innovative"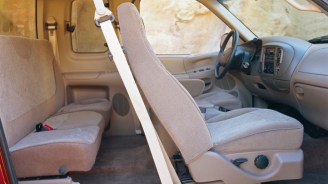 FILE-Getty Images/Car Culture
A 20-year-old Guinea man wedged himself into the front passenger seat of a car (not the one shown in this file image) in an attempt to illegally enter Spain.
A man who skillfully attempted to conceal himself inside a car seat was busted trying to sneak into Spain illegally last week, the Daily Mail reported.
The 20-year-old immigrant from the West African country of Guinea reportedly went to great lengths to hide from border patrol at the Beni-Enzar crossing between Morocco and the Spanish enclave of Melilla. He and the two other Moroccan men with him appeared to have pulled apart the car's passenger seat cushioning, leaving only the metal frame, the Mail reported. The man then slid in behind the caging and one of his co-smugglers sat on top of him, the paper reported.
Even police who detained the trio had to hand it to them, calling their efforts to get by undetected "unique and innovative."
The two Moroccans were arrested for people smuggling. The man in a car seat disguise was detained, brought before a judge and kicked out of Melilla, according to the Mail.