4-Year-Old Mayor of Minn. Town Wins Second Term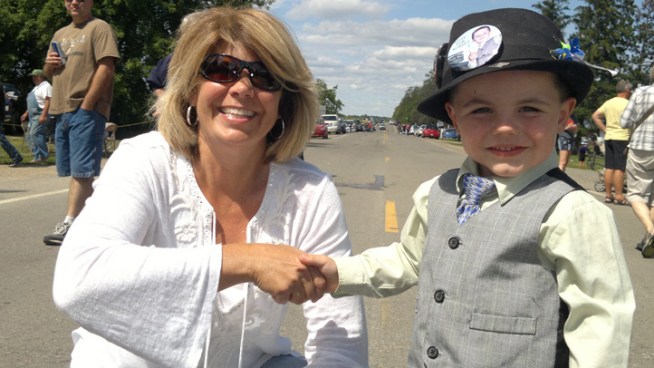 AP
This handout photo released by the Tufts family shows Mayor Robert "Bobby" Tufts, right, shaking hands with and unidentified woman in Dorset, Minn. Tufts hasn't made it to preschool yet, but he's already been elected twice as mayor of a tiny tourist town in northern Minnesota. Mayor Tufts' name was picked Sunday Aug. 4, 2013 during annual Taste of Dorset festival to be mayor of Dorset for a second term. It has no formal city government and has a population of 22 to 28, depending on whether the minister and his family are in town.
The 4-year-old mayor of a small town in Minnesota was re-elected Sunday on a platform that embraced fundraising for charities and regular playtime.
Robert "Bobby" Tufts' name was drawn from a "ballot box" (a clear tub) at a festival in Dorset, a town of 22 people with no formal city government.
Anyone can vote and as many times as they like for $1 a vote. The proceeds goes toward organizing the Taste of Dorset festival.
Bobby was 3 years old when he won his first election. His mother Emma Tufts said the mayor's second term agenda includes fund raising for the Ronald McDonald's House Charities and new welcome sign for Dorset.
They have already raised $750 from a walk this summer and planned to donate half the money from Sunday's T-shirt sales to charity, according to The Associated Press.
When the incumbent mayor was asked how he felt about his victory, he made it clear that he was done answering questions.
"I want to be with the boys," he told his mother.