Report: Grocery Store Offers "Jameis Winston Crab Legs"
Thursday, May 1, 2014 | Updated 3:58 PM EDT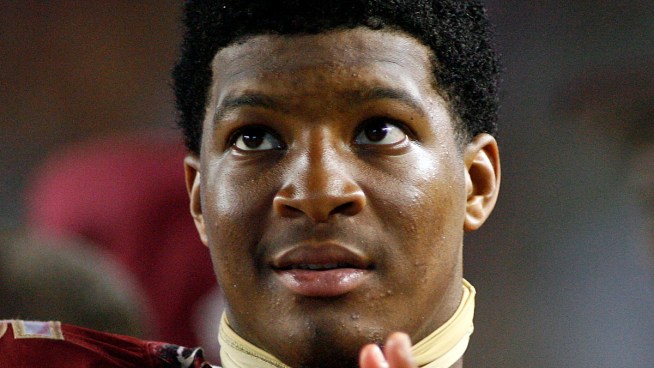 AP
FILE - In this Sept. 21, 2013, file photo, Florida State quarterback Jameis Winston watches from the sidelines during the second half of an NCAA college football game against Bethune-Cookman in Tallahassee, Fla. Winston is under investigation in an alleged sexual assault reported nearly a nearly a year ago, the university and Winston's attorney confirmed on Wednesday, Nov. 13, 2013. (AP Photo/Phil Sears, File)
Rivalries in college football bring out the best and worst in fans. In Alabama, one grocery store decided to get in on the fun of mocking Florida State quarterback Jameis Winston's crab leg heist from a Tallahassee-area Publix.
According to collegefootballtalk.com, a grocery store in Eva, Alabama called Jack's Foodland decided to rename one of their seafood items. As NBCSports reported, the new name was "Jameis Winston King Crab Legs." It was a well-played trolling of Winston, who has become the Internet's latest meme.
Pictures with Winston holding crab legs in place of the National Championship trophy and a separate one with Winston photoshopped into a picture of crabs being unloaded from a boat calling it the "Deadliest Catch," were among the most popular memes since the citation became public.
Winston holds a special place for both Alabama and Auburn fans. He was a top quarterback prospect coming out of Hueytown and his college choices came down to Florida State and Alabama. Winston picked the Noles and spurned the home state Tide.
Then in his redshirt freshman year, Winston led Florida State to the national championship by beating the Auburn Tigers in the final BCS National Championship game this year.
As a result of his heist, Winston will pay a $30 fine, perform 20 hours of community service, and serve a brief suspension from the Seminoles' baseball team.