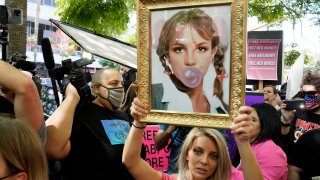 Jodi Montgomery, who has been Britney Spears' conservator-of-the-person since 2019, filed a motion saying she agrees with the pop star's request to remove her father as conservator of the estate.
The motion, filed Wednesday in Los Angeles County Superior Court, states that James "Jamie" Spears should not continue to serve as conservator "because his doing so is not in the best interest of" his daughter.
Montgomery, who was appointed to Britney Spears' case in 2019, said she agrees with the singer in replacing Jamie Spears with Jason Rubin, a certified public accountant from Woodland Hills, California. She noted in her filing that Rubin is "eminently qualified" and will "act in the best interests" of Britney Spears.