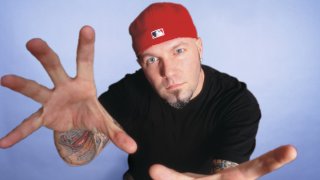 We're "Rollin'" after seeing what Fred Durst looks like now!
The 50-year-old Limp Bizkit frontman debuted a shocking new look on July 28, sharing his head-turning hairdo and 'stache on Instagram. "thinking about you 70," Durst captioned. Durst looks off into the distance while capturing his grey-tinted long locks and thick handlebar mustache.
Download our app for iOS or Android to get the latest forecasts on the hurricane season— and sign up for alerts.
Fans applauded Durst's latest look, with some even calling out comparisons to David Spade, or wondering if it was a wig!
One follower commented, "how is your hair THAT white." Durst quipped, "broccolini."
Another wrote, "S--t, I thought Richard Gere popped up from outta nowhere," as Durst replied, "close."
Durst's pic warranted even more attention as he recently deleted his entire Instagram page; the silver fox photo is his sole pic now under his social media profile. The re-brand lands just in time for Limp Bizkit's tour, kicking off at Lollapalooza weekend in Chicago starting on July 29.
Must-See Concerts and Music Tours in 2021
Prior to his new pic, clean-shaven Durst was famously known for sporting a baseball hat.
Copyright E! Online