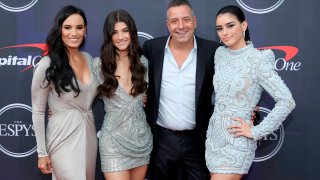 On Friday, the streaming service Hulu, debuted its new series, "The D'Amelio Show," which follows the behind-the-scenes lives of TikTok influencer siblings Charli, 17, and Dixie, 20, and their parents, Marc and Heidi D'Amelio, as they navigate social media stardom.
After using their phones and social media as a vehicle to connect with their followers, the D'Amelios said they're excited to explore a more traditional entertainment medium — a step that a handful of other influencers have tried with little success in the past.
"We haven't had the proper place to say these things in the way we want to say them — whether it's how we're actually dealing with this all mentally or topics on how we feel we've been treated by the internet," Charli, who is the most followed person on TikTok (currently with more than 123 million followers), told NBC News ahead of the show's release. " I feel that those are things that they want to hear."
Read the full story on NBCNews.com.