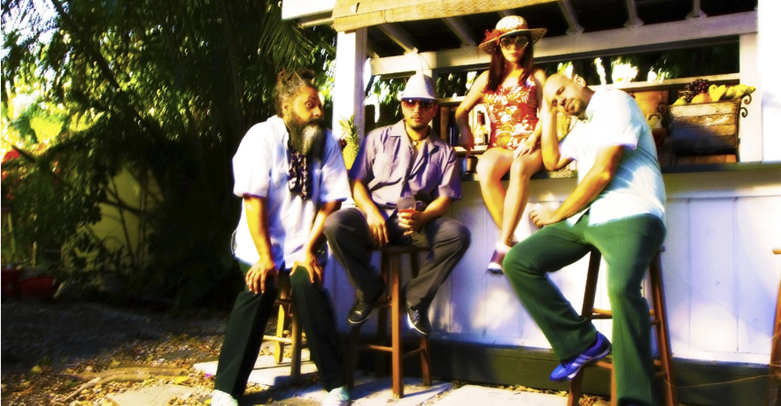 Elastic Bond, a quartet based right here in Miami, is a mixture of influences ranging from Latin to electronic music. Their music bounces between sassy, jazzy Latin beats paired with Spanish lyrics, to soulful, rock influenced sounds. Bouncing between so many genres may be a challenge to some, but Elastic Bond manages to borrow from each influence seamlessly, and create a cohesive - yet eclectic - sound. With a new album coming out this summer and a full spread of shows lined up, the group has plenty to talk about:
Your new album 'REAL' will be out later this month. What is the main thing you want fans to focus on with this new album?
Other than grooving to it which doesn't take much focus, we would like to ignite a positive perception of our reality with this album; in other words we want our listeners to feel good when they hear it. "Real" took us through challenging times and somehow stretched our ability to love. A lot of the songs are about love, we hope our listeners feel that and enjoy it to the fullest.
Your music blends in some classic Latin, cumbia sounds alongside modern sounds, such as electronic influences. What is the process like to find a balance between the old versus the new?
Since we have pretty eclectic influences, the process to find a balance between them is to have our ears open and go with what feels right. We vibe with spontaneous song ideas first and then continue to add more elements, electronic beats, Sofy's vocals, traditional instruments and synthesizers.
Are there any other groups here in Miami you would love to collaborate with?
We are friends with many musicians in our local music scene and have done countless jam sessions throughout the years. So far we've collaborated on recordings with Locos Por Juana and Mr. Pauer and have invited guests musicians to record on our tracks from Suenalo, ArtOfficial, and Xperimento. In the future we would love to collaborate with Spam All Stars, The Lee Boys, Mayday!, Afrobeta, and even Pitbull, why not?
Some of your songs are in Spanish, while some are in English. What are some of the ways you can express yourself in one language, more so than the other?
Sofy writes most of the lyrics and vocal melodies, she is fluent in both languages because she was raised speaking only Spanish until the age of 12, and then moved to the States and has been speaking English here ever since, and of course Spanglish galore. When the ideas come, they show up naturally in a specific language, It might have to do with the way some vocal melodies flow better with a specific track in one particular language more so than the other. We feel it out.
Your group has made it a point to bring in many multicultural influences. What are some other types of sounds or genres that you would love to experiment with in the future?
We would love to experiment more with South American instruments, and some African instruments such as the Kora, Balaphone, also with more electronic sounds. Sofy wants to make more soul music with string arrangements, also maybe do a Reggae-Dub album one day, but lets see, we'll continue to go with the flow since it seems to be working out for us somehow.
What are your summer plans?

The new album Real comes out June 25th on Nacional Records and we will be hosting some events to promote it. Our official Miami release party is on July 5th at PAX, where we will play the album live from top to bottom for the first time and have a few special theatrical surprises and guests; and the week before that there's a listening party happening at Sweat Records on June 29th. After that we hit the road to perform in New York City for LAMC, a couple of club gigs and two shows at the Grassroots Festival in upstate NY. We have other potential dates in the talks for August and October, which we will be posting on our website www.elasticbond.com.