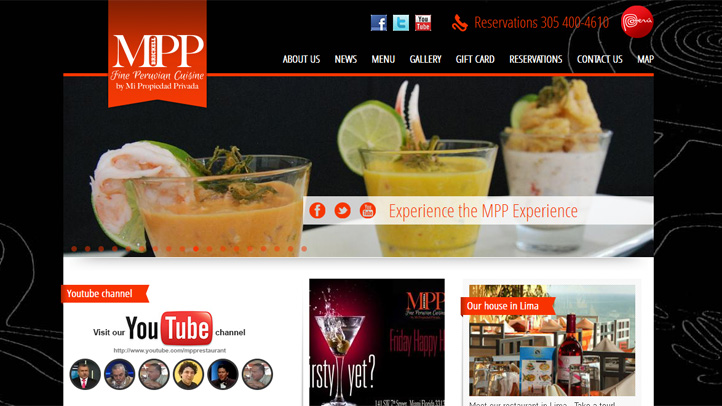 After more than a decade of critical and popular acclaim in Lima, Peru, owners Henry and Hector Malpartida have brought the chic restaurant and lounge, MPP (Mi Propiedad Privada), to Brickell.
Named after a traditional and well-known song in Peru, the fine dining destination serves authentic cuisine, crafted by a team of chefs hailing from the original restaurant in Lima. The menu features an array of traditional ceviches, in addition to a variety of signature menu items including the best grilled octopus in town, larger-than-life prociutto-wrapped panko-crusted prawns, and shrimp drenched in a creamy pepper sauce. Servers are well-versed in the menu.
Latin Beat caught up with Henry to ask a few questions about MPP and the menu.
What are the differences between the restaurant in Peru and the one here?
MPP Lima is our parent company and our high-quality standards are the same in both locations. MPP Brickell, given its strategic and ideal location, provides patrons with an added entertainment and nightlife aspect since it is also a lounge. Guests can enjoy delicious Peruvian food, good music and a lively atmosphere in the lounge area.
Why open MPP here in Miami?
Miami is the gateway to Latin America and its cultural diversity make it a great starting point for MPP to branch out of Peru.
Did you adapt the recipes from those in the restaurant in Lima?
Over the years, Peruvian food has become one of the top cuisines in the world. We wanted to keep both menus consistent and authentic, so our guests truly get a taste of Peru in every meal.
Open Tuesday through Sunday for lunch and dinner, guests can indulge in the Executive Lunch special during the week, from noon to 4 p.m. and choose from five featured appetizers and five entrées, with selections changing weekly.
There's also karaoke on Tuesday nights, and ladies' night on Thursdays, with free cocktails for ladies and $10 select ceviches and a club-like atmosphere after 10 p.m.
MPP's
contemporary indoor lounge and alluring outdoor patio provides the perfect setting to enjoy Happy Hour with a selection of drink specials offered daily. The restaurant is located at 141 SW 7th Street, at the Neo Vertika building. Telephone: (305) 400-4610.