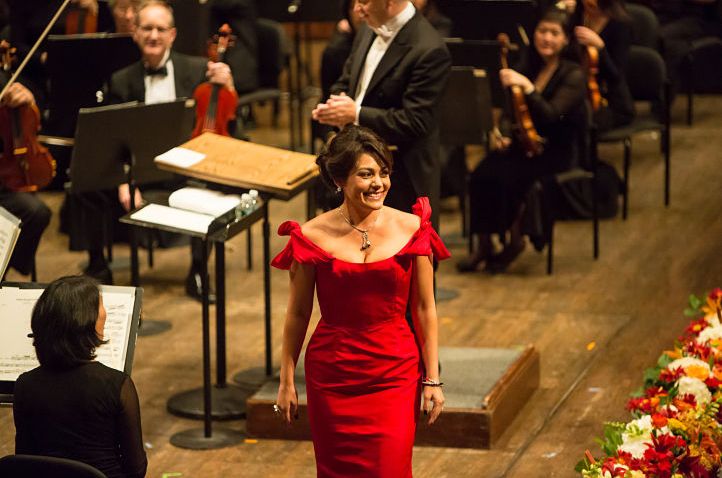 Of all the world's great operas, none perhaps is better known than Puccini's La bohème. First staged in 1896 (the same year Miami became a city), where it was conducted by Toscanini (who'd reprise his role 50 years later with the NBC Orchestra), it's also one of the most performed works in modern history. That's because La bohème doesn't lose its allure no matter how many times it's heard, and when it's sung by an up-and-coming diva, the allure is greater than ever. Hear for yourself when Florida Grand Opera swings into the Arsht with Richard Tucker Award-winning diva Ailyn Perez for its 72nd season opener.
In opera circles, how prestigious really is the Richard Tucker Award? The Richard Tucker Award is pretty much the single most important award that an emerging American opera singer can receive – some people call it the Heisman Trophy of opera! It really is recognized as a spotlight on who the next major star will be. When you read the list of past Richard Tucker Award winners, they are indeed the opera superstars of today.
Is it the sort of award divas-to-be dream about some day winning? As an American opera singer, YES! The Richard Tucker Award is such a door opener for an artist – it's a sign that you've really arrived, and really helps get you to that next stage in your career. It's also special because the award is given by nomination and selection and not won through competition rounds. This means that pretty much EVERY young American opera singer was in the running and not just a few who were invited to audition, and that they're judging your whole career to date rather than how well you performed on one particular day. The selection board takes many factors into consideration, such as age, talent and current career reputation, so it's more of an award that recognizes an artist's career that's already rather impressive but ready to make the jump to the next level. It's absolutely incredible to be chosen!
Speaking of which, are you indeed considered a diva (and did you grow up dreaming of being one)? That's not for me to say, but I do need to feel divinely connected to my character, the music, the production, and my colleagues when I sing. I think the "Diva" I aspired to be is one who is able to be musically critical, performing with great heart and vocal palette, dramatic enthusiasm, and dedicated to uplifting the human spirit by being inclusive of people and giving herself to her Art.
Which divas most inspired you growing up? Among the American Divas that continue to inspire me are Maria Callas, Elenor Steber, Anna Moffo, Beverly Sills, Marilyn Horne, Carol Vaness, Aprile Millo, Martina Arroyo, Leontyne Price, and Renee Fleming!
How 'bout now? There are so many great divas today, including a few other Richard Tucker Award winners! For those who are new to the opera world, now is the time to immerse themselves! It's so much easier and inexpensive to be a part of this art form than in years past. It's a very expensive LIVE art form, but you can see opera now in so many different ways, like streaming online – often for free! – or in movie theaters. There is great young talent and fierce singing going on already! The unbeatable experience is to be in the theater to hear it live, but you can now hear artists on YouTube, catch up with them on Instagram, Twitter, Facebook and other social media. But, like I said, hearing the natural acoustics of the human voice live among the great historical stories of opera at your local theater with full orchestra and chorus and so much more is best because of its OPERATIC proportions. It's a very American art form as well, and we need to enjoy it more in our culture. I am so proud to sing on the great stages of the USA.
Do you think the term diva has gotten a bad rap over the years? Yes, Divas get a bad rap because they're stereotyped as always behaving badly in order to make things work. Sometimes standing up for yourself as a woman may look cold and difficult. A woman has incredible intuition for beauty, good nature, and love. There are definitely moments when she has to stand up to challenges and protect what she cares about.
That said: What's your own most diva-like trait? Going on stage to be open to the audience ... and being believable!
Florida Grand Opera's La bohème opens Saturday, Nov. 17 and runs through Dec. 2. For more information log on here.