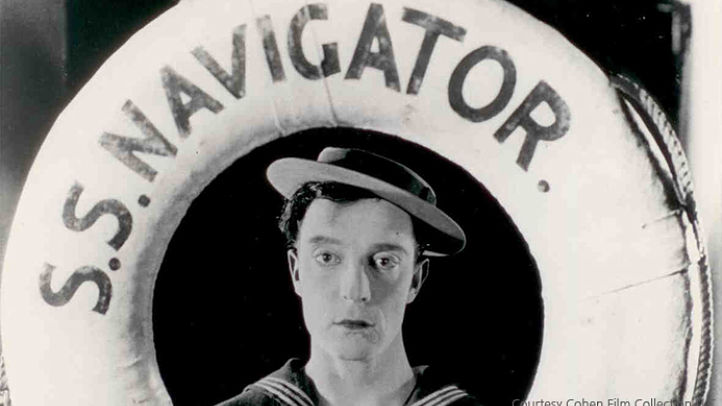 The last time Niteside caught up with Gabó, the soundslinger was set to live score a double feature of films from Surrealist Luis Buñuel. This time the sonic wondermaker is doing likewise with the equally immortal Buster Keaton's 1924 masterpiece The Navigator. Like then, the mashed media action will go down at Miami Beach Cinematheque. And like then we're betting the results will be nothing short of utterly sublime.
Why Buster Keaton? It was actually the Miami Beach Cinematheque's decision to do a retrospective on Buster Keaton and after such a good experience with Luis Buñuel last year, they invited me to do The Navigator.
Will this be your first time colliding with Keaton? Yes, this is the first time I've done any Keaton film and I just love it. It is actually a good coincidence, because since all the praise The Artist's director Michel Hazanavicius heaped on Keaton during his Oscar acceptance speech, I'd been wanting to know more of his work. Perfect timing...
Are there any other cinematic masters due to get the Gabo treatment any time soon? Not right now, but I definitely would like to do Chaplin's Modern Times in the near future. Also, I have recently been acquainted with the films of D.W. Griffith films, particularly Intolerance, which might be a very interesting project to do.
What else has Gabo been up to since we last chatted? This last year I've been mostly producing a music video game app to be released in spring. The Neo.Son album was also released late last year and finally now my partner singer Natascha and myself have been rehearsing in New York for upcoming lounge shows. We hope to perform in Miami in late January and February. Parallel to these shows, I'm preparing an uptempo version of our take on Donovan's Mellow Yellow that might be ready for Winter Music Conference.
Other than Keaton, how will Gabo be staying sounded this Basel? For me are Art Basel is the best time in Miami and I will definitely be enjoying every minute of it!
Gabó live scores Buster Keaton's The Navigator Thursday December 6th, 8pm at Miami Beach Cinematheque. For more information log on here.