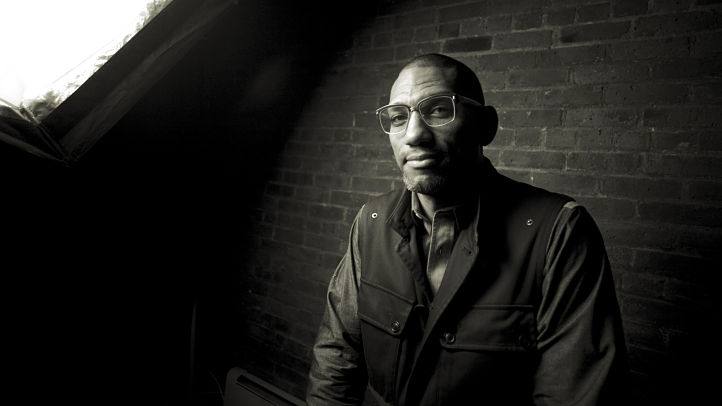 He scored a short for Rolex, underscored the feature-length Miami Vice, and lent song to the soundtrack of True Blood. He resurrected self-proclaimed bride of Christ Sister Gertrude Morgan (for the esteemed Preservation Hall), helped kickoff the comeback of Yoruba legend King Sunny Ade (Baba Mo Tunde), and sounded down memory lane with the likes of Martin Fry and Alison Moyet (Re-members Only). From the get though he's been a DJ whose mixes and remixes continue to beat through the night. He's King Britt, and he's bringin' his regal dizzy back to Bardot this Saturday night.
For the two people left who still may not know, just who is King Britt? I have been a music producer, curator and DJ since 1987. I have been so happy with my career, spreading the music worldwide. And yes, King is my real first name.
If your spin style was a color, what would it be? Excellent question... I would say a deep purple -- majestic, healing and powerful.
How 'bout if it was an adjective? Sexy or heady.
And a verb? Kiss.
Speaking of action, word is you've recently released the first volume of a buncha fragments; wanna tell us a bit about it? Hahaha, yes. I just released a sample/loop pack for producers called Fragments. They are glitchy loops to help create a palette for their foundation when producing dance music, though they also can be used in a live context as well. It's very unique because it has my signature warm but tough sound.
Didn't you also recently rack some kinda something else for the high tech naturalist set? Yes, I released an experimental album called The Bee and the Stamen for the label Datagarden, who specialize in recordings that exemplify the relationship between nature and music. My album explores what a bee's journey to pollinate would sound like. It's a really beautiful sound design for headphones.
Neither offering means you've stopped dropping DJ mixes, right? Not at all. I put up mixes all the time. It's my way of giving back.
Any other sides of King Britt on tap? I'm continuing my work in the soundtrack world, and I'm also heading to Zimbabwe to do a very special project with Tendai Meraire of Shabazz Palaces, based on his father's work with the traditional Mbira instrument.
Which King Britt should fans expect to find at Bardot this Saturday night? I always play across the board, but since it is a Saturday night in Miami I will lean a bit toward house and uptempo... slowly though we are changing the sound into more of an eclectic set... we even add a bit of live elements with bass and percussion.
Might this spin be the first of a regular thing? It's actually the fifth of a regular monthly residency that I hope to continue. I want to really turn it into a more eclectic night where I can invite some of my musician friends to enhance the dance sound with some organics. I feel Miami is ready and I am the man to do it. So come Saturday with an open mind and open heart.
King Britt spins Saturday November 24th at Bardot. For more information log on here.