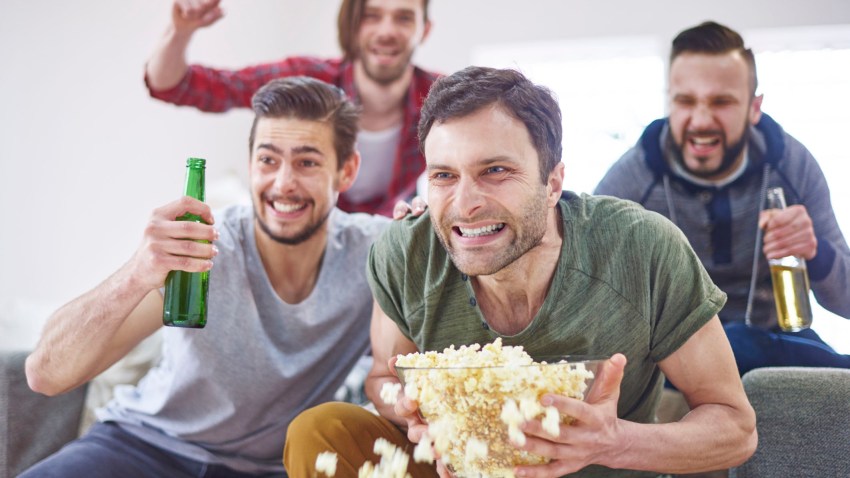 The following content is created in consultation with BrandsMart USA. It does not reflect the work or opinions of NBC Miami's editorial staff. To learn more about BrandsMart USA, visit brandsmartusa.com.
Unless your name is Tom Brady, football season is only a few weeks away.
Which means it's time you get your man cave ready for kickoff.
Much more than just a place to watch TV, a man cave is a sanctuary from the hustle and bustle of everyday life. And yes, it pairs perfectly with football. Retreat to your domain to catch all the big plays this season, monitor your fantasy team and bond with your bros.
You can even invite the wife in, providing of course she's a Dolphins fan.
But we all know football season isn't just about touchdowns, sacks and interceptions. It's an excuse to kick back, ply yourself with suds, indulge in snacks and spend hours with good friends in front of the tube.
BrandsMart USA is here to make sure your man cave is dialed in for the season ahead. As one of America's leading retailers of TV and Home Theater systems, all available at competitive prices, BrandsMart USA stocks the products that'll take your man cave to the next level. Add plush recliners, beer dispensers and snack accessories, and you'll have everything you need to crush gameday.
Sharp 70" Class Smart AQUOS LED 4K Ultra HDTV With Wi-Fi
As the centerpiece to your man cave, you're going to want to go big with your TV. HD picture quality is a must as well if you hope to catch all the incredible NFL action this season. Look no further than Sharp's Class Smart AQUOS LED 4K Ultra HDTV. With ultra crisp resolution, a 70" screen and Wi-Fi technology, you'll be experiencing the most advanced smart TV platform for the ultimate entertainment experience.

Bose® Lifestyle® 535 Series III Home Entertainment System
You don't just want to see all the tackles, you want to hear them in all their thudding glory. Experience the whole game as if you were on the field with the Bose® Lifestyle® 535 Series III Home Entertainment System. Listen to the deep, low-note performance from small, sleek speakers, while Wi-Fi capabilities allowing you to stream music from multiple devices makes for the perfect halftime.

Simmons Trek Match Double Motion Power Sofa
Let's face it, spending hours in your man cave every Sunday all season long can be exhausting. But just because your favorite team has you on the edge of your seat doesn't mean you literally have to perch yourself there. Kick back on Simmons Trek Match Double Motion Power Sofa, whose duel recliners, drop down table, storage drawer and lights make it the perfect piece of furniture to lounge and dine on in front of Sunday's big game.

Roku Streaming Stick
Who says the NFL needs to be limited to Sunday and Monday? Maximize your man cave time with Roku's Streaming Stick, which allows you to stay on top of your favorite team with NFL Now, a channel that brings you customized video streams, news, highlights and analysis all week long. Plus with 1,000 channels and 31,000 movies all at your fingertips, it's also the perfect device for date night (your wife has been patient, after all).
Premium 4.9 CuFt Beer Dispenser
Just like your high school football coach always said, hydrating during the game is key. Forget the Gatorade and upgrade to a crisp craft beer courtesy of Premium's 4.9 CuFt Beer Dispenser. Capable of holding 1/2 and 1/4 kegs, Premium's suds-slinging product is all you need to elevate the game day experience, while a tower tap, removable drip tray and stainless steel door ensures it's both convenient and stylish.
Nostalgia Pop-Up Hot Dog Toaster
How can you be expected to prepare delicious snacks when the Dolphins are making a late drive? The Nostalgia Pop-Up Hot Dog Toaster solves that conundrum. Simply insert beef franks and buns into the slots as you would a regular toaster, adjust the timing knob and press the lever down. Within minutes you'll have perfectly prepared hot dogs popping out.

Nostalgia Old Fashioned Movie Time Popcorn Cart
Popcorn pairs perfectly with the big game (not to mention the aforementioned date night, hint, hint), so serve it up thanks to the Nostalgia Old Fashioned Movie Time Popcorn Cart. Popping up to two quarts of hot, fresh kettle cooked popcorn per batch, this vintage accessory will feed all your friends, while features like a stainless-steel kettle with built-in stirring system and kernel catcher and a compartment in the base of the unit to store supplies makes the cart easy to operate and clean.
To get great deals on other products, from home theater essentials to wearable tech, visit brandsmartusa.com.