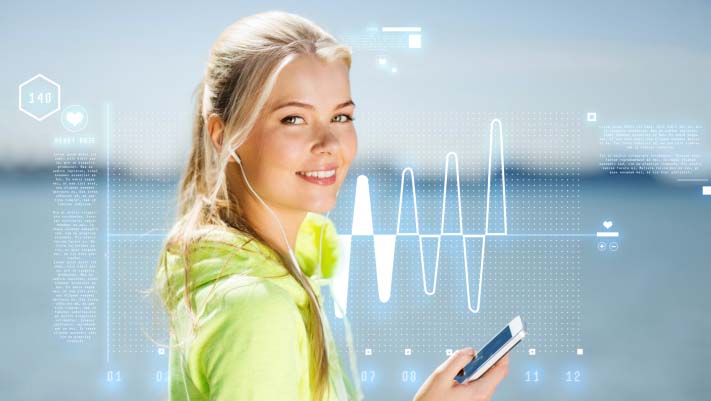 The following content is created in consultation with BrandsMart USA. It does not reflect the work or opinions of NBC Miami's editorial staff. To learn more about BrandsMart USA, visit brandsmartusa.com.
What's the biggest hurdle standing between you and your fitness goals?
Excuses.
And believe us, we're all guilty of them. Whether it's "I don't have time to go to the gym today" or "I'm too tired to cook," we all come up with countless reasons why we shouldn't workout or opt for that healthy meal. Add them together, and it's no wonder we all struggle to be our best.
Luckily, there's a solution, and it's called motivation. How do you find it? Well, sometimes, all we need are those simple tools that'll inspire us to get out the door or into the kitchen and make the right decision.
That's why BrandsMart USA is here to help. As one of America's leading retailers of everything from treadmills to wearable fitness trackers to kitchen appliances that'll make whipping up healthy meals easier than ordering takeout, BrandsMart USA stocks the products that can help you make fitness fun and easy, all at the most competitive prices.
To help you get started, BrandsMart USA has put together a list of 10 cool tech items that'll put you on the fast track to fitness.

Mio Fuse Heart Rate Monitor and Activity Tracker Wristband
Whether you're going on a daily run or just walking up and down the office and all over town, Mio's Fuse Heart Rate Monitor and Activity Tracker Wristband will keep you apprised of how many calories you've torched. Thanks to its EKG-accurate electro-optical cell sensor, the Fuse will track your heart rate (as well as your daily steps and pace), while its Bluetooth enabled technology means it's compatible with popular smartphone fitness apps.
Polaroid Cube
Documenting your workout is another great motivator. Capture action-packed footage from bike rides, hikes, swims and more with the splashproof and shock-resistant Polaroid Cube Mini. Packed with cool features like a built-in microphone and LED light, it's perfect for photos and videos, while magnets allow you to mount it to just about anything for amazing POV shots.
Vivitar Bluetooth Selfie Stick
Speaking of documentation, does a workout even count in the age of social media without taking a selfie of yourself sweating? Optimize your Instagram fitness shots with Vivitar's Bluetooth Selfie Stick, which extends up to 40 inches long and allows you to control your phone with the click of a button.
JBL Reflect BT Earbuds
Music is the ultimate workout partner — just ask Rocky. Harness the Eye of the Tiger with JBL's Reflect BT Earbuds. Ergonomically built to withstand the rigors of even the most energetic of workouts, these sleek, Bluetooth-enabled earbuds will help push you harder thanks to their retractable tether design and superior sound quality.
Samsung Gear 2 Smart Watch
But earbuds are only half the battle; complete the musical motivation with Samsung's Gear 2 Smart Watch. With a stand-alone music player and Bluetooth connectivity, the Gear 2 allows you to beam playlists straight to your headphones (keep cranking the Ace of Base, we won't judge). Add a 2.0 MP camera and a heart rate sensor, and you've got 2015's all-in-one workout device.
Pro-Form 5.0 ES Upright Exercise Bike
Cycling is one of the best ways to boost cardio fitness and riding indoors can be twice as effective as hitting the open road. Avoid cars and traffic lights with Pro-Form's 5.0 ES Upright Exercise Bike, a stationary that mimics real riding with its Inertia Enhanced Flywheel. You'll also have 18 preset workout apps at your disposal, allowing you to dial in the degree and duration of your workout. Next stop? Le Tour de France!
Pro-Form ZT4 Treadmill
Running offers an equally beneficial workout to cycling, and can be much more effective for those of us pressed for time. To promote heart health, aim for 150 minutes a week of jogging on Pro-Form's ZT4 Treadmill. You'll love the 16 built-in workouts designed by a certified personal trainer, while your joints will love the forgiving ProShox™ cushioning and the comfortable 18-inch by 50-inch tread belt that lets you stretch out your stride.
Pro-Form Core Strength Kit
Cardio is a clutch way to burn calories, but for overall fitness and strength we can't forget our cores. Make your scultping and toning routine easy with Pro-Form's Core Strength Kit, featuring a 65 cm ball with base ring and two 3 lb. neoprene-dipped dumbbells.
Ninja Blender and Food Processor Kitchen System
Now that you've got your workout gear set, it's time to think about diet. Thankfully, the Ninja Blender and Food Processor Kitchen System makes eating healthy a no brainer. From fiber-packed juices and protein shakes to fresh soups and healthy spreads, the Ninja's 5-star rated multiple blade system makes it easy to mix and make just about everything.
Taylor Biggest Loser Chrome and Glass Lithium Digital Scale
Stick to your fitness routine and you'll deserve a pat on the back. Track your progress with the Taylor Biggest Loser Chrome and Glass Lithium Digital Scale, which is as accurate as it is stylish.

To get great deals on other products, from smartphones and wearable tech to air conditioners and mattresses, visit brandsmartusa.com.