Philippe LeDan, 39, the tennis instructor at San Souci Tennis center in North Miami accused of videotaping his clients illegally, asked for a trial during a hearing at Miami-Dade County Court this week.
LeDan was charged on Feb. 26th with one count of felony video voyeurism stemming from allegations that he was videotaping a client without her knowledge while having sex with her.
The judge set the trial date for January 20th. LeDan is facing up to five years in prison if convicted.
Michael Mirer, LeDan's attorney, said the relations were consensual and that both parties "knew what was going on."
LeDan's life as a popular instructor at the tennis center began to unravel when Alexandra Karolemeas, his former fiancée, says she found pictures in his cell phone last year.
"Pictures of himself that he was sending to other women," Karolemeas said. "Naked pictures of himself."
It turns out that LeDan had a lot of pictures of himself in his cell phone including pictures with high school-age students and many graphic videos showing him having sex with clients.
Prosecutors claim LeDan used a camera to videotape intimate encounters. In a video used to criminally charged him, LeDan removes what is blocking the camera lens so that it has a clear shot of LeDan's intimate moments with a client.
LeDan refused to talk to Team 6 Investigator Trina Robinson last spring.
NBC 6 Investigation: Tennis Pro Asks for Trial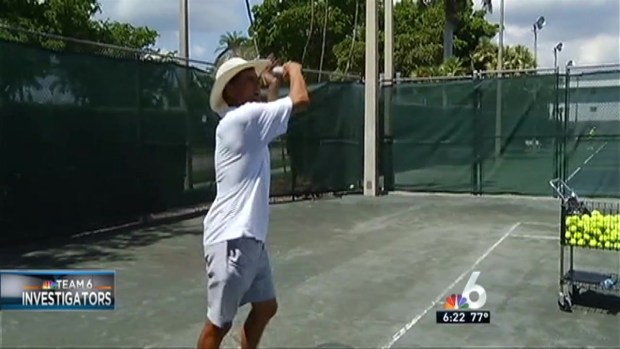 "Were you videotaping women while having sex over there?" Robinson asked LeDan while he was giving a lesson at Ives Estates Tennis Center where he had been working after he was banned from Sans Souci.
LeDan would only respond that he could not answer any questions.
San Souci Tennis Center Director, Ross Dubins, has denied knowledge of LeDan's sexual encounters.
"There's never been inappropriate activity happening here at the center," Dubins said. "And no employees reported any incident. Nobody from the community has reported any incident."
But official documents and a former employee contradict Dubins' claims. Fabian Correa said he knew LeDan was having sex at the center.
"A couple of times I was there," Correa said. "He asked me to leave the office so he could have sex in the tennis director Ross Dubins' office."
Correa says he also complained to Dubins.
"I said we have to control what's going on there," Correa said. "It's really uncomfortable for me. For example, I had a lady come in there, who was sleeping with him and made a huge scene."
Incident reports filed with the City of North Miami last year described a man accosting LeDan at San Souci, and ordering him to "stay away from my wife." Another report said a man interrupted a lesson with two boys while their grandmother watched and started yelling at LeDan and accused him of having an affair with his wife.
After LeDan was arrested in February, Dubin's supervisors ordered him to ban LeDan from San Souci.
Team 6 Investigators have learned that Dubins, the man accused of turning a blind eye to LeDan's sexual activities, had a highly irregular deal with the City of North Miami.
For 25 years, Dubins has been both a salaried city employee and a contract tennis pro, who could collect private lesson fees from students he could recruit from city tennis clinics.
"It was definitely a beneficial deal for Mr. Dubins," said City Councilman Scott Galvin. "You can't denied that."
Beneficial to Dubins, said Galvin, but detrimental to the city.
"It should never have been allowed that someone potentially do private and public duties and at the same time profiting from both," Galvin said.
The Miami-Dade Ethics Commission ruled early this year that the practice was "in violation of North Miami ethics code."
Dubins says he's done nothing wrong.
"All I know I've always followed my contract," he said, "Always turning whatever money that I should to the city."
In June, the city put the tennis pro position out for bids.
Dubins was worried.
"If they said that I couldn't be here anymore? I would be devastated."
Dubins fought back hard. He recruited Attorney Frank Wolland to represent him. Wolland is also a lobbyist and a former mayor of North Miami.
Dubins also sent emails to his supporters, providing them with city officials' email addresses to contact them.
On July 8th, a parade of supporters spoke at the North Miami City Council meeting. But behind the scenes, communications were going on between city officials and a high-profile resident.
Jimmy Tate, a North Miami real estate investor, seems to have tried to use his personal relationship with Councilman Galvin to intervene on Dubins' behalf.
By email, Galvin warned that "without changes everyone involved faces fines."
In his response, Tate branded the City's actions as a "witch hunt" stating that putting the contract out for bids was "an insult" while demanding that San Souci kept Dubins.
Dubins' efforts paid off.
The City of North Miami took the contract off the bidding table and gets to keep his job as a city employee.
"This is my life, my passion and you know I love the center and I love the people," Dubins said.
While Dubins' salary is still under negotiation, the range is between $54,652 and $81,024. His old salary as a city employee was $28,000.