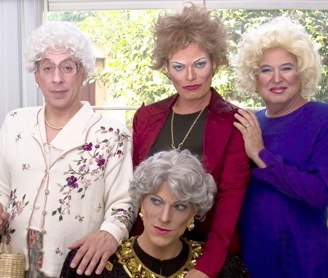 ORIGINAL COUGARS: Do the words Rusty Anchor, St. Olaf or "hey, pussycat" bring anything to mind? If so, put on your best cardigan, grab your bamboo purse and head out to the Colony Theater on Miami Beach. Tonight through Sunday, they will present The Golden Gays, a musical drag spoof of our favorite senior citizens. Even though these queens hail from Los Angeles, they're making their first stop of their short tour in the original ladies hometown. To bring out the golden girl in all of us, they are promising a lot of shoulder-pads, gossiping on the lanai and silver cougars doing what they do best, being a friend. 8 P.M. Tickets.
BEER ME: With the best of wine being celebrated on Miami Beach, we feel that beer needs some love. 93 Rock feels that way, too, not surprisingly. Tonight the radio station will present The Best Damn Brew Review at Gulfstream Park, where they will celebrate all that is beer with 200 beer samples, live music and tons of food that accompanies the delicious beverage. Get your tickets at Total Wine for only $20. Try to pick up a DD while you're there, you will need it. 8 P.M.
PARTY MONSTER: There aren't many places in Miami to escape the angry stares of door men, velvet ropes and barely 18 girls who forgot their pants. The Electric Pickle saved many Miamians that were in dire need of escaping the commercial mumbo-jumbo of Miami Beach. Since opening their doors one year ago, they have never let us down with their no drama atmosphere and great music. Tonight we celebrate everything we have come to love about them at their One Year Anniversary Block Party that's sure to be any music lover's dream come true. 9 P.M.