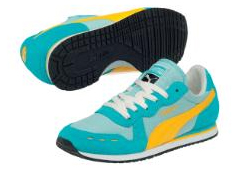 SHOE BUSINESS: When it came to your Keds, you were the Picasso of puffy paint. Buck 15 invites you to kick it old school with the 2nd round of their Arts & Crafts series. Pick up a Puma sneaker starting tonight -- you'll have until September 13th to pimp it out – and take advantage of 2 for 1 well drinks til midnight at $3 PBR all night long while you're there. Oh, and ladies – you drink free all night.

LAUGH IN: Tomorrow is a holiday, which means you've got something to smile about. So take that giddy 'tude to the Best of the South Comedy Tour, which will feature the hilariousness of Tyler Craig, Larry Dogg, Rayzor and more. James L. Knight Center, 7:30 P.M.

NICE WHEELS: What could be better than burgers and beer? Hot rods, of course. Each first Sunday of the month, Burger and Beer Joint invites gearheads to bring their classic cruisers or bikes to the restaurant, where they'll receive 25 percent off (pre-registry required). Or, just come to nibble on some of their tasty fries.