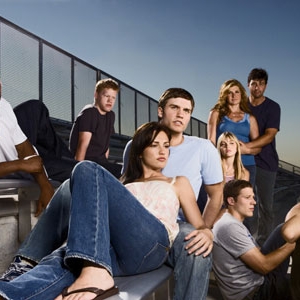 Fans have been clamoring to find out the fate of the Dillion Texas Panthers on DirecTV and NBC's "Friday Night Lights" and Access Hollywood has the exclusive news on who will be returning to the field and whose time under the big lights is fading.
As previously announced, the Peter Berg-created series is returning for two more seasons, with an initial run on DirecTV followed by broadcast on NBC. A source close to the show told AccessHollywood.com that series stars Connie Britton and Kyle Chandler (Principal Tami Taylor & Coach Eric Taylor) and the actress who plays their daughter, Aimee Teegarden (Julie Taylor), will be returning as series regulars.
VIEW THE PHOTOS: Primetime Hunks
Also, Taylor Kitsch (Tim Riggins), who wowed audiences as Gambit in this summer's "X-Men Origins: Wolverine" and Jesse Plemons (Landry Clarke) will also return as regulars.
Minka Kelly's (Lyla Garrity) future in Dillion is still uncertain, but our source says she'll most likely return for one or two episodes in the coming season.
VIEW THE PHOTOS: The Latest Star Sightings
Adrianne Palicki (Tyra Collette) appears to be least likely to be spotted on the football drama, as her upcoming shooting schedule for the "Red Dawn" reboot could conflict with the new season. But fans should likely still get a little taste of Tyra in possibly one to two episodes.
And in total touchdown casting news for die hard "Lights" fans, Zach Gilford (Matt Saracen) will return for five to seven episodes of the new season, where the guy who is best known for taking care of everyone else in his life is said to have a major new storyline that involves him taking charge and taking care of himself.
"Friday Night Lights" is slated for two more 13-episode runs during the 2010-11 TV season.
Related Content from AccessHollywood.com:
VIEW THE PHOTOS: The Sexy Ladies Of Primetime
PLAY IT NOW: Behind The Scenes: 'The Philanthropist'
PLAY IT NOW: Dish Of Salt: The End Of 'Friday Night Lights?'

MORE ACCESS ON THESE TOPICS: TV - Primetime - NBC - News - Young Hollywood

Copyright NBCAH - Access Hollywood