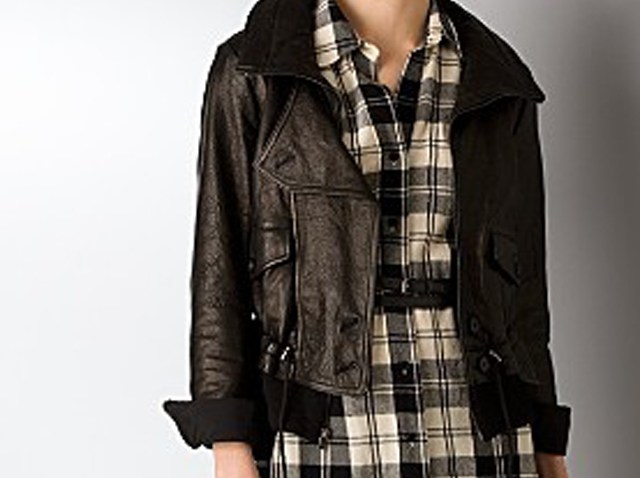 FLIPPING OUT: We have a theory: girls like clothes that are as versatile as they are. They want something that can be sweet and spicy, professional and playful. Theory shares those same sentiments. And if you do, too, you can score a pretty sweet deal this weekend at Bloomingdale's Aventura. From 1 to 4 p.m. on Saturday, spend $1,000 or more on regular-price Theory merchandise and get a free portable Flip Video Camcorder. We think this leather jacket, one of fall's biggest trends, is a great way to get you more than halfway there. $795, Bloomingdale's Aventura, 19555 Biscayne Blvd. 305.792.1000

ALL ABOUT THE '80S: Bloomingdale's Aventura is all about the giveaway this weekend. After you've landed a flip cam, record yourself scoring six free jelly bracelets when you spend $100 or more on regular-price Aqua merchandise Saturday from 1 to 4 p.m. Because the '80s are alive and well this season, stylists will be on hand to help you conquer the '80s all over again, Aqua style. Only this time around you can leave the Rave Ultra Hold Number 5 out of the picture. Bloomingdale's Aventura, 19555 Biscayne Blvd. 305.792.1000

NOW THAT'S SPICY: While you're at Aventura Mall scoring your gratis goods, head over to LUSH's Sugar and Spice Party from 1 to 6 p.m to see if you're sweet or saucy. Olfactory officials will be on tap to run your sniffer through an obstacle course of sweet and spicy scents. Whether you're a Sweetie Pie or a Sex Bomb, you can still score a complimentary facial or foot treatment and take home a Sugar & Spice goodie bag with any purchase of $45 or more. LUSH Aventura 19555 Biscayne Blvd., Aventura; 305.935.7022

GLOSS AND SHINE: While you've got beauty on the brain, log on to locally created brand Tintecosmetics.com and save 20 percent on your total purchase now through the end of September. Just select a sexy shimmer, like Haute Chocolate Jumbo Flavored Lip Shine ($17), enter the word "gloss" at checkout and you'll save on your shade.
TEAM PLAYER: You swear you have a significant other, but every football season your man is as good as gone (either mentally and/or physically) just as soon as the Dolphins, Patriots, what have you, take to the field. Stop being a football widow and punt yourself over to Willow Steam Spa at The Fairmont Turnberry Isle Resorts & Club where half-time (30 minute) treatments are just $50. The non-football lovers (NFL) services start this Sunday and run every Sunday and Monday until the end of football season. Indulge in a massage, exfoliation, body wrap, facial or express pedicure, plus plenty of extra perks while you avoid scores, ignore highlights and escape the dreaded pre-game show. Are you ready for some football? Why yes, yes you are. RSVP required: 305.933.6930. 9999 W. Country Club Drive, Aventura