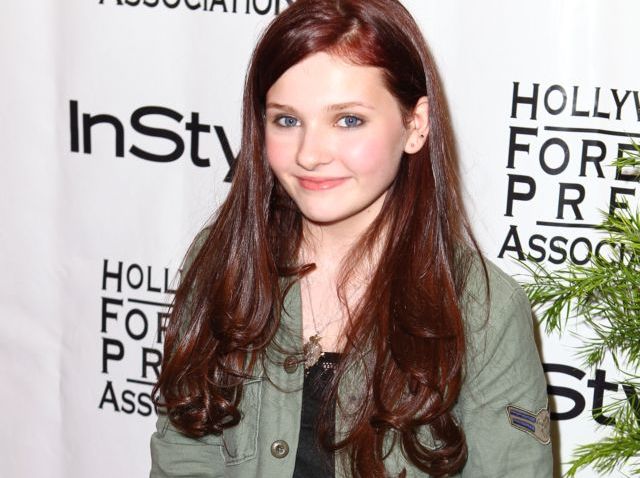 Almost every girl on the planet wants to simply meet Johnny Depp. And at only 14, actress Abigail Breslin - the sweet face in flicks like Signs, Definitely, Maybe and Little Miss Sunshine - has already starred in a movie with him.

"He was a very nice guy," said Breslin. "We filmed all of our scenes together, that was really great to do. We got to play off the other actors -- we sort of filmed it like a play, it was very fun."

Breslin plays Priscilla, a tough, morbid mouse in the new animated movie Rango, out March 4. And although alongside title character Johnny Depp as well as Isla Fisher, she admits she would have scooped up the role regardless of her smoldering Pirates of the Caribbean costar.

"She's really different than any other characters I've played," she said. "She's out of her mind!"

She added, "I would have just done it based on how cute she is."

Breslin also admitted that while the movie obviously appeals to her age group, she was drawn to the fact it still incorporated a mature level of comedy.
"I think it is a kids movie, but also something everyone can enjoy," she explained. "It has a good story in there and jokes that adults may even understand more than their kids would. I think that's what's really great about Rango, it really doesn't talk down to kids."
Aside from already working with heavy-hitting leading men like Depp, Ryan Reynolds, and Mel Gibson all before snagging her driver's license, Breslin also scored a Best Supporting Actress Academy Award nom for her performance as Olive Hoover in Little Miss Sunshine. Her advice for this year's nominees? Soak up every moment.

"I loved making Little Miss Sunshine, I was really lucky to be able to do it and it gave me a lot of opportunities," said Breslin. "I know how exciting this time is, so I wish everyone that is nominated the absolute best."

Sometimes it's good to be a follower! Catch us on Twitter @nitesidemia.