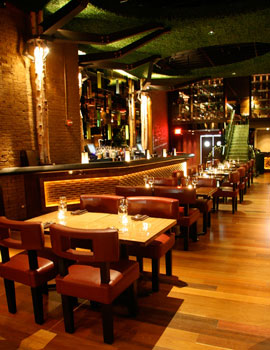 Family pedigree can yield not only god-given talent, but a real head for the game: Daddy Manning sired two boys into the NFL, and growing up around your dad has elevated your inherent gift for not doing the dishes. For a resto enjoying the benefit of generations of talent, Apple.
From L.A.'s Bryan Ogden, who grew up in the esteemed kitchen of James Beard Award-winning dad Bradley, Apple gussied up the former Snatch space (after a two-month delay) and now feels elegant yet earthy, thanks to solid wood-planked floors, heavy, vaguely Asian furniture, a polished brick bar, a glass-walled loft, and cuisine that's called "Contemporary American" (what, it's got 1.8 kids?). The menu's updated weekly in reaction to market/season, but currently the raw bar rocks beauties like Maine lobster tail and daily market ceviche w/ cilantro & spicy cucumber, while apps range from pan-roasted diver scallops with celery root & truffle vinaigrette, to crepes stuffed w/ beef short ribs, crispy shallots, & grain mustard -- sure to disappoint any who try to pair it with a watermelon and "parents gone for weekend". Current entrees encompass a roster of steaks including 16-oz Prime NY Strip, 8- or 12-oz Angus filet, and 22-oz bone-in Prime ribeye (decked with sauces like a Pinot Noir reduction, creamy horseradish, and tamarind), and swordfish w/ lemon orzo and 100 tomatoes, which sounds like an awful lot, until you realize it's their name. Cocktails get a culinary edge, like the Apple Samba (green apple slices, organic wild honey, white peppercorn, Ultimat Vodka), the Ginger Mojito (fresh sliced ginger, mint leaves, agave nectar, lime, 10 Cane rum), and one with blueberries, raspberries, blackberries, thyme, lime, and vodka called the Very Berry Thyme -- all natural, even though despite his pedigrees, Bonds is all about being not.
Read more at Thrillist.
Copyright Archive Sources