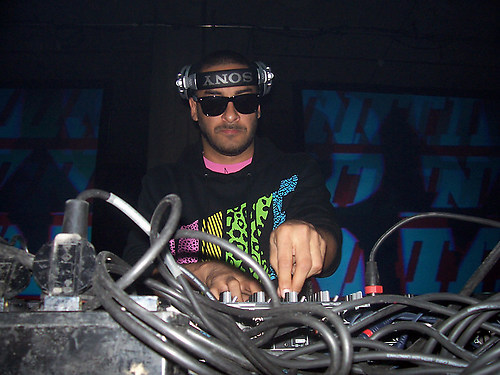 With Winter Music Conference officially over, most of Miami is still recuperating from three days of Ultra and hundreds of parties that went on over the two weeks. But while many took WMC as the perfect time to let loose, famed DJ Armand Van Helden was in the Magic City for business, not pleasure. Well, maybe he had a little bit of a pleasure and he is willing to admit it.

Van Helden, who headlined one of the most anticipated soirees of the conference at Shelborne South Beach, is no stranger to Miami. Having been in the business since the early 90's, his mega hits likes "My My My" and "I Want Your Soul" can be heard in any club most nights of the week, whether he is behind the decks or not.

So after a busy work weekend for the disc jockey, we caught up with him to talk about everything from what he thinks of the 305 to what exactly Barbra Streisand thought of his hit "Barbra Streisand."

Niteside: Do you like coming to South Florida for Winter Music Conference?
Armand Van Helden: Yes! Every year it has always been a lot of fun for us but it is amazing to watch how that has translated into the growth in attendance and those that embrace the music, concept and concerts – both in the industry as well as outside of the industry. I remember a time when there were only a few South Florida venues that made it a point to be involved with the conference. Miami has become a premier nightlife destination comparable to Vegas and NYC and it is great to have the support of the venues during the conference.

What is the difference between a show in Miami vs. Miami During Winter Music Conference?
Convenience is the biggest difference. It's a lot easier to get around when it is not WMC and we are able to have more of a one-on-one experience with the Miami locals. Sometimes I find that they tend to avoid WMC because the beach is so busy but once you are inside the venue, from a performance perspective, it is not any different if it is WMC or another great night performing in Miami -- the energy level is always there.

Were you surprised when "Barbra Streisand" blew up the way it did?
Yes, we were very surprised and grateful. You always hope that each song will have that kind of success but you never expect it and its almost hard to believe when it happens. There's a point in which you have to tell yourself "Yeah, OK, we'll take it."

Any idea of what Barbra Steisand thinks of the song?
We heard a rumor that she has heard it, gets it and liked it. We have not yet crossed paths with her and now we joke that she is "the holy grail" and it has become a quest for us to meet her.

Do you have a hit you are most proud of?
It's a song called "You don't know me." it was my first official Armand release that incorporated a full vocal as opposed to my others that were primarily remixes and tracks. This song helped me to realize that I was really capable of doing this for a living.
Think you will ever stop making music?
I actually consider myself to have been somewhat retired for a few years. It is not official as I still do some work, but it is minimal and mostly at my leisure. It's a type of retirement but not a full-on retirement.
Whats your advice for aspiring DJs?
Make music, don't deejay.