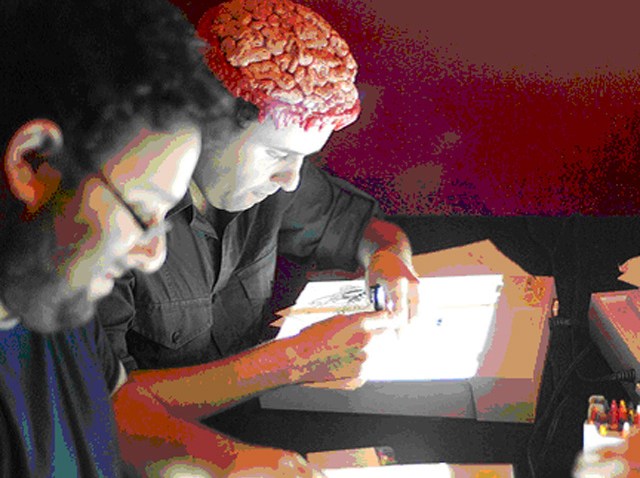 Remember what animation was like before production companies were in a race to produce the most life-like visuals?
Better Question: Do you remember when Miami was as much of a film microcosm as L.A and N.Y. are?
Chances are you probably don't, but your grandparents might.
Because American classic cartoons like Betty Boop and Felix the Cat are among many of the characters that came to life in the legendary Fleischer Studios' Miami Headquarters.
That was many moons ago, but today Miami World Cinema Center is doing its best to "bring Miami back to its traditional animation roots," said Spencer Morin, Director of Animation at MWCC.
And if you take a step into The News Lounge at the 55th Street Station at 8 p.m. sharp this Thursday July 29th, you might find yourself engrossed by illuminated whiteboxes, some guy shouting instructions over the loud music, and artists crunching out sketches like their life depended on it.
It's Called Drinking and Drawing and it's truly something you have to experience to understand.
Animators and drawing virgins come together, some drawn (no pun intended) in by curiosity, some by their passion, and others by a friend.
The event gives participants a fast-paced outlet to not only express themselves, but also celebrate real 2-d animation like never before.
"We go about it the old school way, and the way your hands touch what's going on in each frame is more tangible and perfect than anything you can get with a pc," said Morin, who is also the founder of Drinking and Drawing Miami.
However, this isn't the first installment of Drinking and Drawing, the event is done in association with Frederator Studios in NY and it has only grown since it was first conceived in October 2009.
This time around, the event will feature famed Street Artist Krave, who is most well known for his mural on 36th Street and Biscayne Blvd.
Krave, who said he "stumbled into animation," will be in the building, bringing his iconic monkey cartoon character to life.
You don't have to be 21 to draw -- just to drink -- so if you're underage don't worry. Maybe your work will be one of the few pieces that actually make sense when the evening is all over.