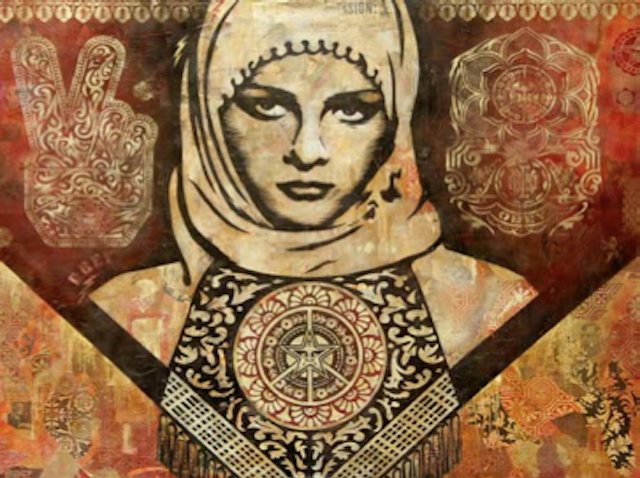 Art Basel and related activities are in full swing. Sifting through the mess can be stressful and the task of participating is a bit daunting. Just remember, not all fairs are created equal, but generally, you'll be able to find something likable at each location. You probably can't afford much of the art on display, but don't let that keep you from celebrating the openings and related parties.

Miami Art Museum is hosting a reception with the now infamous, but always cool artist Shepard Fairey. If you don't believe you're familiar with his work, think again. Fairey is the mastermind behind the ubiquitous image of Barack Obama which may have helped get him elected. MAM will be a great place to grab a drink, relax and check out Fairy's outdoor, pubic art project, Arab Woman.

If you don't feel like leaving the beach, check out Verge, an emerging art fair at the Catalina Hotel and Beach Club. Wife and husband team, Pocket of Lollipops, will be performing their own rock and roll at around 6 p.m. These two talents are also exhibiting sculptures at 3000 North Miami Ave and 44 NE 29th Street.

If you've spent much time in the Lower East Side, you probably have stumbled into the quirky and cool hipster haven known as Max Fish. This place has been around forever and has recently gotten a bad rap as being overly hipster laden. The truth is that Max Fish has a pretty cool mixed crowd and is always a good time. Hosted by the O.H.W.O.W gallery, the former space known as PS14 will be transformed this week into a Miami Max Fish. Each night there will be live music, including Gang Gang Dance, Jacuzzi Boys and Animals of the Arctic.

We hope you navigate your way well and safely through this busiest of Miami weeks.

Read more of Liz Tracy's Miami missives in her blog, Miami, bro.