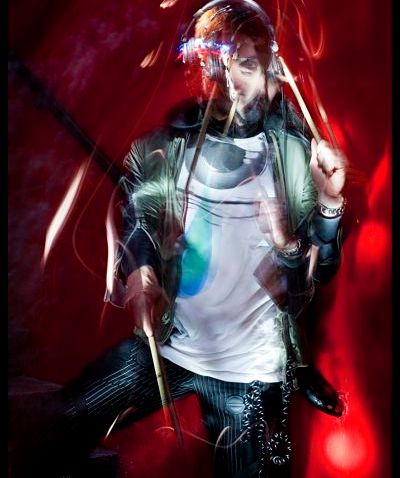 Leader of the band known as organicArma, principal of the multi-purpose space named Awarehouse, and primary in all the outside action that takes place at Panther Coffee, dhArma 111 is in the thick of much of what is goin' down in the core of Miami's art and music community. For Art Basel, he and his gang of Irregulars are stepping up even higher.

Where is organicArma appearing this Basel? Like last year, we started even before Basel began, this time opening for the great Mexican duo IGOR The Band at Churchill's. We will also be playing Friday at 9 p.m. on the street in front of Panther Coffee as part of our monthly collaboration with the great owners Joel and Leticia Pollock, and we will finish Saturday at Basel Castle as part of a great lineup of international acts put together by the wonderful gang of party masters known as The Overthrow.

Didn't you also curate the action at Panther? Yes! We really enjoy the combination of minimal music and coffee. Every month we do a variety of electronic DJ sets at Panther that goes from minimal techno to experimental. For Basel though, we will again take advantage of the streets and have a stage featuring some of the most relevant artists that have been collaborating and playing at Awarehouse over the last year. There will also be doing a parade that takes you through arrows from one place to the other.

Who else will be appearing there this week? The lineup includes Axiom, Cog Nomen, Eden Grey, Dusthead and Dave Betamax (Thursday); Axl, Fumes, Dume, Space Between Words, Transoverload, OHME and organicArma (Friday); a wide array from our WVUM DJ and Producer friend SpinnZinn (Saturday); and Mr. Feathers to TUSK and Zela Zaid (Sunday).

What's goin' down at Awarehouse while all this is happening? As I mentioned, we have a parade that follows arrows between the Panther Coffee and Awarehouse. Willing to make people walk and enjoy the underground of the wilds west of Wynwood, which will connect to the amazing exhibition that Miami's Independent Thinkers are curating at our label's headquarters. They will be showcasing some of the edgiest local art and will be open Thursday through Sunday.

That's not the only thing goin' down on that block though, is it? No, we are also setting up a whole block project of street art that will stem from NW 5th Avenue to the wild west border of Wynwood. Right now the artists are Beks, Batse, Vast, Drix, Selloe, Nova, Trash, Shout, Dzee, Age. There may be some adds; there may even be a subtraction (but I doubt it).

In retrospect we are giving back to the community by restoring and beautifying all the fashion district warehouses that surround Awarehouse. Every wall is either owned or leased by a local business operator, and not only will the art reflect the energy and aesthetic of the new found rebirth that is flourishing in Wynwood, but it will also show the international art community the caliber of local talent coming from various Miami graffiti collectives.

Sounds like an action-packed week -- are you excited? If am playing and supporting the one's who want to expose their art with a purpose beyond their own interests I do not need to feel anything beyond converting myself into part of this scene and community in Wynwood. In other words, converting ourselves into what we do.

We'll take that as a Yes!

OrganicArma plays Panther Coffee Friday and Basel Castle Saturday. Independent Thinkers runs from Friday through Sunday at Awarehouse, 550 NW 29th Street, where the entire block is undergoing a street art explosion.