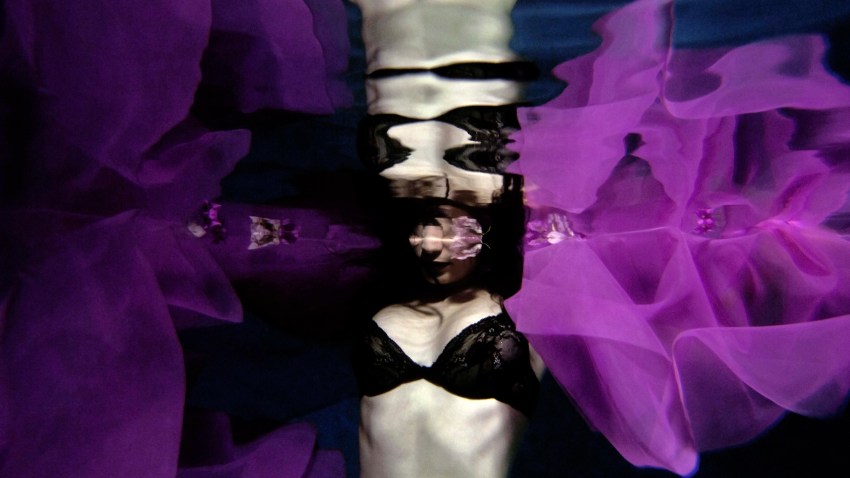 The sea is as important to Miami's identity as the land upon which it stands. It's around us, it's below us, and it supports us in more ways than we can imagine. So it only makes sense that a Miamian would use the ocean for both inspiration and setting; what makes it more compelling is that native would wanna get beneath the sea's surface, for it is there where the deep truly begins. This Basel, photographer Fay Baldwin brings her underwater wonder to LMNT.

For those who don't yet know, who's Fay Baldwin and what's the core of her story? I am 27-year old photographer who was raised on Key Biscayne and developed an early passion for the ocean and everything in it. At 12 I got my scuba license; the same year I picked up my first serious film camera (Nikon F2). Growing up in the early '90s I came to admire photographic legends like Peter Lindbergh and Ellen Von Unwerth. In addition to shooting people I also enjoy shooting wild life. It was shooting sharks in the Bahamas this past summer when I realized that I wanted to expand my underwater (UW) photography. Soon I was shooting everything that would let me, under the surface. Both my passion for photography and water have lead me to my most recent project for Art Basel.

Aside from lifelong ties, what is it about the underwater that you find so compelling? It's a odd paradox. On the one hand working underwater gives you complete freedom of movement in three dimensional space... no gravity. On the other, there are lots of limitations, like working within the time limits imposed by how long you and your subjects can hold their breath. There also communications problems as you can't direct your subject while you are shooting. I love the way water plays with light, even though lighting poses a problem as well. It is completely different from shooting on land. I find it fascinating and challenging.

How do your subjects generally react to the environment? It takes a little longer to get into a good work flow. When the water is cold and you are trying to hold your breath it's hard to look relaxed. I'd say modeling underwater is a lot harder than it looks. The models have to be much more aware of their body and especially their face. It's really challenging to look natural and comfortable and not look like you are holding your breath. You have very short time intervals to get the shot and if you don't... it's back to the surface to redirect and go again.

Speaking of subjects, who's on the other end of the lens for this show? I was very lucky to have worked with three great woman for this exibit: Breanna Murphy, Charis Kirchheimer, and Celine Lee. They were not working in the most comfortable of settings and as much of it was shot in the past couple of weeks... cold was a very big factor.

Anyone else integral to the exhibit? I had the very sweet and talented Aban Sonia doing make up for the girls.

How'd this all come to be at LMNT for Basel? My friend and fellow artist, Tatiana Blanco, showed my underwater work to LMNT curator Ashley Cumberland and from there I was invited to be in the show. I designed a project around the gallery's Basel theme, "The Human Cloth". It gave me the chance to experiment with the female form and the movement of fabric underwater.

Fay Baldwin's "Water" opens December 2, 7pm at LMNT 55 NW 36th Street Miami. For more information log on here.