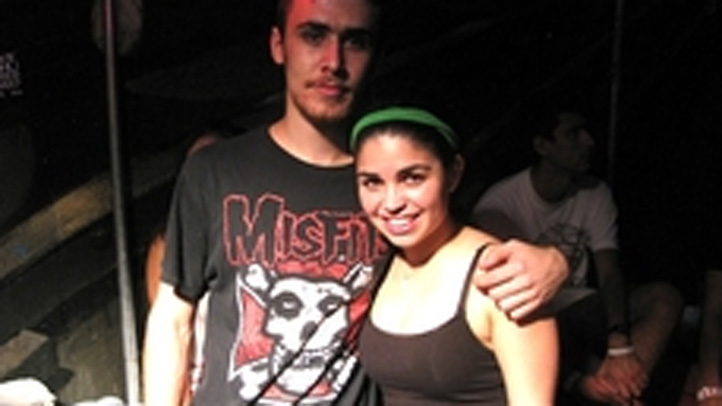 Playing frat games at bars,like beer pong, at spots that aren't typical college hangouts is gaining popularity. Even the unlikely venue and live music haven of Little Haiti Churchill's Pub is getting in on the action with Igor Argibay and Doran Joseph's Pong Time Productions.
Though
Joseph
may be 21, but he's not how you imagine a typical keg stand guzzler, beer pong player. In a Misfits T-shirt, he says he started playing the horror punk rockers' music at 15. He's still making music, but nowadays he sticks with blues, lounge, flamenco, reggae.
Joseph grew up in Miami, and currently attends SAE for sound engineering. For his Tuesday night party at Churchill's, he chose some of his favorite bands to play, including Deaf Poets, Anthropologists of Nosy Mangabe, and Telekinetic Walrus. We spoke with the young organizer about the boisterous fete he hosted last night at the best bar in town.
When did you start doing this kind of night?
This is our first big event at a bar. We were doing it at a house, and it was just getting too big. We were almost like promoting people to not come. So, we were like, let's take it somewhere, let's get some fresh live music and let's make it like a house party environment but at a bar. So, we've got the Costa Rican jungle jazz of Tamboka, Deaf Poets rocking, and I'm releasing my album tonight. It's been a wild time.
What's your album called?
Live From My Rolling Chair
, it's an acoustic number I put together. It's mostly
a fundraiser for a friend Margo
that was in a car accident, now she's paralyzed from the neck down. I'm just trying to raise as much money for her rehab as possible.
What kind of music do you make?
I'm kind of a loungey, blues with some bluegrass, some humorous, "don't take it too seriously" music. I'm still young. I don't have a dollar and no one listening to me does, so I just want people to listen and people to enjoy, relate, get the best of everyone out.
There's a lot of people here tonight. Is this something you expected to happen?
Yes, of course. We don't do in the middle, we just throw the best parties, we want it to feel like... Everyone loves when you're at house and it's raging, and the music is great and the people are great, and the beer is there, and the cops never come. So, that's what we tried to put together here at Churchill's.
How would you describe the crowd here?
It's diverse, we've got the loungey cats of Midnight Hour running around, they're playing some alt rock, we've got a lot of the Latin vibe coming with Tamboka, a little meringue dancing inside, and out here, it's kind of like the collegey, rager, not quite frat party, but just young people having a good time vibe.
Is this the first time you play at Churchill's?
I grew up here, from the time I was 16, sneaking in O.E.s in my pocket to now running events and making the bar money and myself money. It's like pay your dues to play the blues. I love this venue for it.
The party took place on Tuesday night at Churchill's Pub (5501 NE 2 Ave, Miami).