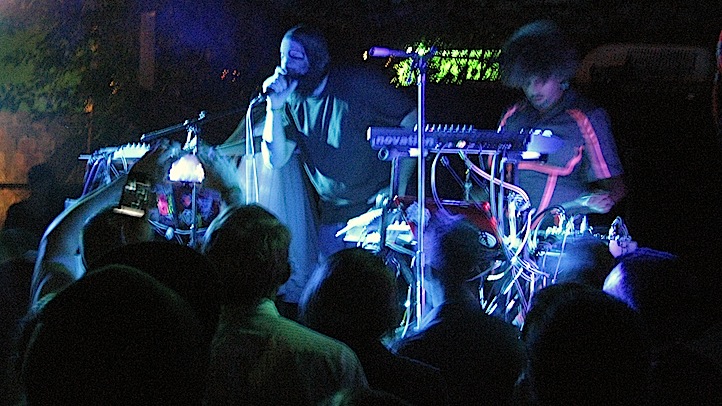 Churchill's has always been a place where musicians creating all kinds of sounds can comfortably take the stage. From abundant punk nights, to the International Noise Conference, to jazz on Mondays, this Little Haiti haven is a "sort of English pub" that welcomes variety.
Friday night, promoter and poet Benjamin Shahoulian is following suit by displaying a whole range of genres, noises, and poetry for the Celestial Music Festival. From sweetly classic acoustic to mind-expanding psychedelic tunes, it'll be a memorable audio mix.
Shahoulian wanted to introduce acts that didn't necessarily know each other already, "The universe does what it does and you're just involved," he mused, "and you don't really take credit after a certain point." He's been part of this business for well over a decade, so putting together great shows come easily to him. One of the more significant regular events he participated in was called I Am a F**king Artist at Buck 15. He says it came at a time when there wasn't much musical diversity at shows and many artists he worked with went on to do other big things. There were, "cello players, saxophone players, artists, performance artists, full bands." It brought together both Spanish and English language music.
Later today, he explains of the heavenly lineup, "it starts very timeless and grows very modern, then futuristic." Raffa and Rainer start by bringing the folk, Dusthead, featuring the M.A.N. Dance Ensemble, Shahoulian calls, "ancient sounding electronic, but in a way that calls upon very ancient rhythms." Next up is the psychedelic noise of Ice Cream and Y-Diz from Telekinetic Walrus who "take things to another dimension." Tony Smurphio of Afrobeta, Shahoulian, and beat boxer Komakozi are joining forces as The Gloop. "It's a weird futuristic fusion of poetry and hip hop and Tony."
Tony Smurphio calls Shahoulian, "a lyrical genius in a comedic way. He comes up with stuff so quick." Though he usually is one part of the popular dance duo Afrobeta, his sound tonight will be dirty, experimental, and textured. The marriage of musical minds and eclectic sounds with The Gloop started with the talents of Komikozi which Smurphio calls, "a new form of art" and included Shahoulian as the conductor. Together they're creating a new sound, something impromptu using the energy of the audience and each other.
"You feel it. The room feels it." Smurphio continues, "This is being born right now. This is never going to be played again, and that's a powerful feeling."
Of working with Smurphio, Shahoulian says of his best friend, "It's like when your big brother shows up for your baseball game." He added, "When you can hang with this guy, you know you're getting somewhere." The Celestial Music Festival is certain to be a place of camaraderie with crazy, quality and otherworldly sounds.
The show starts after 10 p.m., is 18 and over, and $7 to enter Churchill's Pub (5501 NE 2 Ave.).