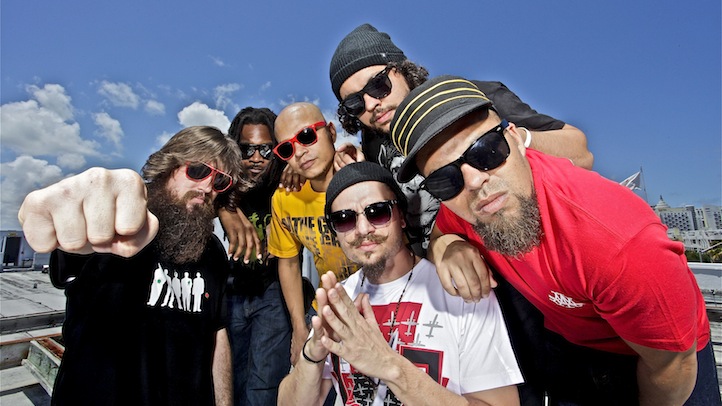 ¡MAYDAY! is a six man outlet that's been expanding the boundaries of the hip hop sound for about three years now. Bernz, one of the MCs, is an original founder of the band who started forming beats and rhymes with Plex about half a decade ago.
The group just returned from a 65-city summer tour with Tech N9ne and performed last night at a Ketel One hosted, carnival themed night at The Stage. They'll likely be back on the road again by the end of the year. This past tour brought them from the House of Blues on the Sunset Strip to a lively show in barely populated Farmington, New Mexico.
Bernz grew up listening to a range of music from Tribe Called Quest to Armand Van Helden, in what he called the "golden era hip hop era and house music." He works with his bandmates to create musical arrangements in a true collaborative format. He revealed of their process, "Somebody will work on something in the morning, leave it on the computer. Somebody will come in the afternoon, put something on, leave it. Somebody will come at night and sing over it."
When the band was first starting out, they recorded the song "Groundhog Day" with Cee-Lo, before he blew up on the scene as Gnarls Barkley. More recently, they've backed Lil Wayne, who's a fan of their music, on a few of his videos, and even performed at his post Super Bowl show on Ocean Drive. "We were watching the Super Bowl," Bernz remembered, "we got a call halftime to come and play." No one says no to Lil Wayne. He said of rock and rap star Weezy, "He's like the coolest dude ever. He doesn't have a bad bone in his body. One of those people you can tell vibes off of energy."
This is Bernz' day job. His other passion is cooking and he enjoys writing. His favorite thing to create right now is slow cooked food like stews and ribs, "Anything that takes like four hours to make, I'm all about it," he said, "When you feed people that, they know it took a long time to make." There's a lot that's awesome about a Crock Pot owning foodie making ribs and quality hip hop right here in Miami.
Though he's played in other bands in the past, Bernz said the music has always remained under the umbrella of hip hop. He noted that, "As soon as you pick up a guitar they want to call it rock, but I think hip hop encompasses a lot of different sounds. You can sample bossa nova, you can sample rock." ¡MAYDAY! experiments with their sound, even using drum and bass beats. "The rhythm is the main thing and the aggression is kind of the constant."
¡MAYDAY! will be releasing an album on Strange Music in February.