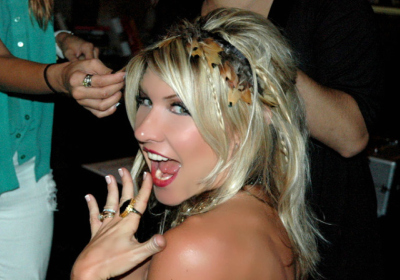 Bombshell bikini designer Betty Bangs said it's possible to sport barely-there swimwear and fit it among the scantily clad Miami set -- just don't go overboard.
"Even if your suit is small, just be sure it's not crawling anywhere it shouldn't be," said the blonde Miami native with a laugh. "There is fine line between sexy and trashy -- try not to walk it."
Known in the swimwear industry as Betty Bangs, Beth Gerharts got her start at the Fashion Institute in Downtown and has been on the payrolls of Giorgio Armani and Neiman Marcus. She went out on her own in 2005 with her custom-made bikinis and will be debuting her latest collection, Betty's Line, on Saturday at MI-VI inside Gulfstream Park.
"Honestly, I started designing suits just to have something different to wear out on the boat," Bangs confessed. "I needed a new suit every week and when people started asking me where they could get one -- here I am today."
The 305 mindset is still strong in Betty, whose favorite duds are those that are beach-appropriate.
"The perfect summer outfit is a great pair of shorts, a bikini and some wedges," she said. "You just can't go wrong in a fabulous bathing suit"

But, she cautioned, the most important accessory isn't something that has a retail value.

"Confidence is the most important thing," she said. "If you don't know how to rock it, then the suit means nothing."