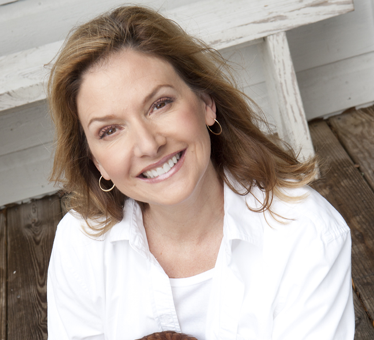 If you are a fan of all that is drinks, deserts and everything in between, there is a good chance that you took part in the South Beach Food and Wine Festival this weekend. And if another one of your vices is reality TV, then you will love Kim Nelson of Daisy Cakes.

Born and raised in South Carolina, the Southern belle went from hometown to Hollywood back in April when she received a $50,000 investment on the ABC hit show, Shark Tank. Months later, she was featured on QVC, where her family recipes sold nationwide.

This weekend, Nelson headed south to South Beach to be an exhibitor in the sold events of Moet Hennessy's The Q and Food Network's The Best Thing I Ever Ate. But before she headed home to watch her follow up segment of Shark Tank on March 2nd, she chatted with us poolside to talk about everything from her future deals, all her delicious deserts and her run-in with Paula Deen.

What made you want to bring your Daisy Cakes to South Beach Wine and Food Festival?
Well, I was invited. I am still pinching myself. When I went down to check out the Q event the day I arrived, I saw my banner with my name on it and just started crying. I couldn't believe that I was a part of this extraordinary event.

You live and breathe cakes. Are you just sick of sweets yet?
You know what? I am kind of a beer and potato chips kind of girl. My family has had these recipes for generations and I eat a lot of our cakes to make sure they are up to our standards. So, sometimes I think, "If I have to put another piece of cake in my mouth or taste another batch of icing, I am going to die."

You have had an exciting couple of months. Tell me about your experience on Shark Tank.
I was suggested by an old college friend of mine and I figured, "Why not try it?" Glad I did because I received a $50,000 investment from Barbara Corcoran, the real estate mogul and now were in business together. She has been very intrstrumental in the growth of my business, especially helping me with segments on QVC.

QVC must have shot your business into super stardom.
Oh, it definitely helped. It gives you the recognition to such a mass audience. My first time was back in November and I was actually in the slot before Paula Deen. In fact, she came on set and started eating cake with me. She treated me like she had known me her whole life. She was so kind and so complimentary – I couldn't believe it! I mean, she's the queen.

Paula Deen, Rachael Ray, and Bethenny Frankel all hit the peaks of their career later in life; much like yourself.
I appreciate it so much more. I have worked hard my whole life, but I am so thankful it happened now. At almost 50, all of this is happening: Shark Tank, QVC, South Beach Wine and Food Festival. If it would have happened a few years back, I don't know if I would have fully grasped it.

What's your advice for aspiring mom/moguls?
It is a little hectic because I have three kids. The busier I become, the more organized I seem to be. I suggest getting a calendar and a husband. Oh and a mother that lives close by. But all kidding aside: never, never, ever give up. I never thought to myself that my business wouldn't be successful; even with all the bumps in the road. I also suggest keeping all negative people away from you; they are poison.