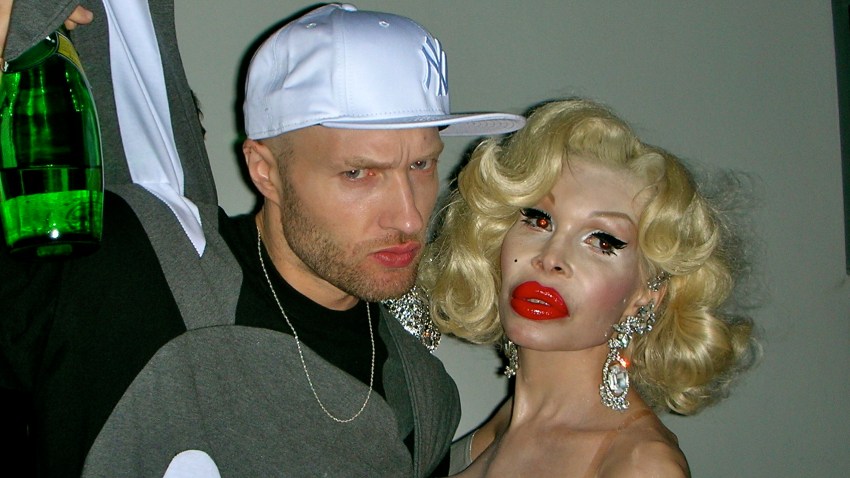 Art Basel Miami Beach might officially begin Dec. 1, but there is a reason it is known as a cultural and social highlight for the Americas. Kicking things off two days early, Perrier Water & Lords South Beach hosted rapper Cazwell and transgender icon Amanda Lepore for a invite-only penthouse party to celebrate all that is Basel.

Arriving shortly after 12 a.m., the two greeted guests and took pictures with the 200 socialites on the rooftop terrace. But before taking a seat at their VIP table, the two sat down with NBC Miami to talk about their love for the 305 and being the music mavens they are today.

You both are in Miami a couple a times a year. Do you love coming here?
Cazwell: I do. The weather, the crowd, the clubs – I mean, everything is just awesome here.

I have to know: How did you two become such good friends?
Amanda Lepore: I used to have these huge and extravagant birthday parties. I called a good friend who was dating Cazwell and asked if he would perform at my birthday. He did and then he wrote a song for me that I loved and we have just remained good friends.
Cazwell: When we were doing our song "Champagne," tons of clubs kids had songs and albums out at the time. We wanted to be different. We knew it had to be good so that even if people wanted to knock it, they couldn't. It had to be strong, solid and sound like her.

When I interviewed you about a year ago, you felt the rap industry was homophobic. Do you still feel the same way?
Cazwell: I think the whole entertainment industry is a little anti-gay. Really, I think people just want to make money. People want to blame the rap industry when it comes to homophobia, but if you think about country, rock and the entertainment industry in general is kind of like that. I guess I don't really think about it because I don't consider myself to be a part of the hip-hop industry. I am much more a part of the club and nightclub industry, and they are a lot more open.

Do you think your music will ever be mainstream?
Cazwell: I don't know. We are artists that aren't relying on the record industry to make our careers. We are never stopping. Hopefully we will be around twenty years from now.
Amanda Lepore: We have staying power because of our fans. They keep us alive.

Would you say 2011 has been a big year for the gay community?
Amanda Lepore: Absolutely. People are much more accepting, especially to transsexuals. I can remember coming up in the clubs, it was much more easy to blend in the girls and I didn't feel really accepted by the gay community. There was a big shift change, for me at least, when gay rights came to the forefront of politics.

What about Chaz Bono being on Dancing With The Stars? That was pretty groundbreaking.
Cazwell: I thought it was so amazing of Dancing With The Stars to put him on that show. Just amazing.
Amanda Lepore: I actually don't have cable, so I didn't get a chance to watch. But people told me about it and I think it's wonderful. People got to see how happy he is as a man. That is important.

This year, have you noticed a change in your audience?
Amanda Lepore: For sure. I notice a lot of straight people at my shows. It's a lot more mixed. I just did a show in Barcelona and then LA and both had a lot of girls and some straight guys, too.
Cazwell: I definitely have the demographic of young gay guys. I think gay men are a always looking for someone they can relate to, and usually it was female artists. I think gay men kind of connect with me and my life style. But that isn't to say I don't think more straight people will come around. They will. I really like straight people! I hope people know that.