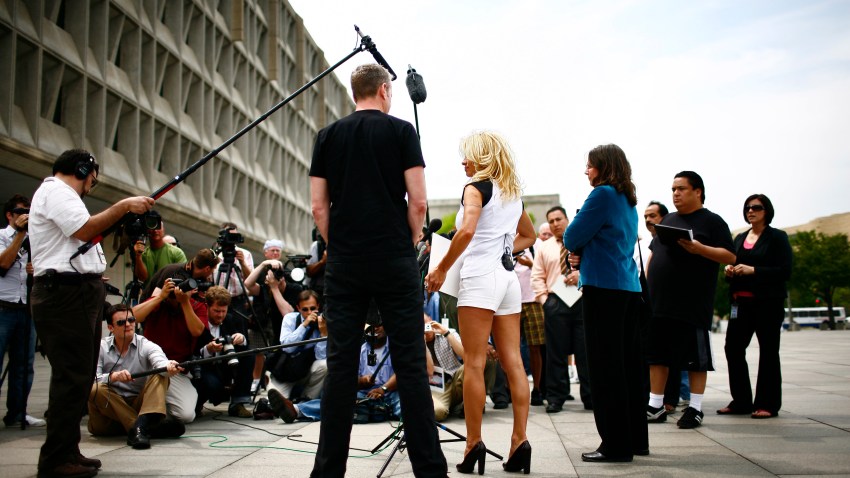 BOOBS AND BOOZE: Apparently Pam Anderson loves more than just animals. The busty actress who hosted the AARF gala in Fort Lauderdale with Bob Barker this past week, was quite the drunken spectacle after the event.
Shortly after the gala, Anderson headed over to China Grill in Fort Lauderdale, where she went from animal activist to party animal. Scene in the Tropics reports Anderson created quite the strip-club environment at the restaurant by hoping up on the bar, downing multiple shots of Patron, grinding on her guests and keeping staff there past closing time. All just a typical night out for Anderson, we're sure.
PORT AND SPORT: Whitney Port docked her ship in Miami this week at the Shore Club in South Beach for a Havaianas Hot Spring Break soiree. Port, however, found more than just a co-host in Robert Buckley, also at the event. It seems the two "were spotted making out at Nobu later that night as they had dinner with a group of friends," reports E! News. Buckley may be wearing the title "rebound guy" as Port recently split with "The City" castmate Jay Lyon.
PREZ PLAYS: George W. Bush was spotted hitting a few balls around with brother Jeb at the Biltmore in Coral Gables on Saturday morning. The former president smiled and waved at the cameras but offered no advice for the financial disaster he created for the economy.