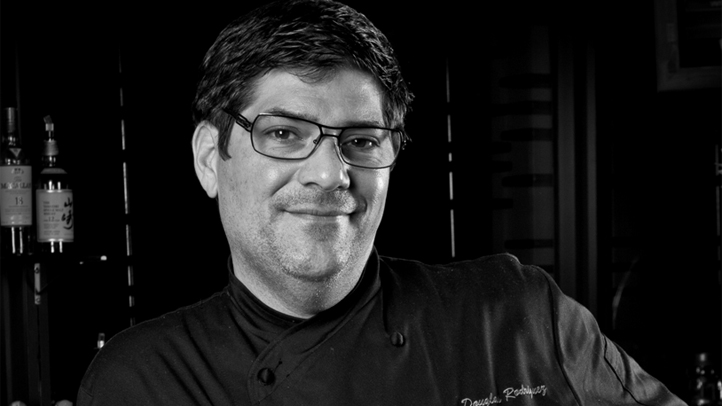 James Beard Award winning chef, Douglas Rodriguez's eponimous restaurant, was recently awarded the coveted AAA 4 Diamond Award.
It's an award so prestigious that only only 2.6 percent out of 28,000 restaurants receive this honor each year.
Rodriguez's restaurant, De Rodriguez Cuba, located inside the 5-star, Hilton Bentley Hotel, is amongst only nine other restaurants on Miami Beach to join this exclusive list of the finest restaurants in the country. It is the first and only restaurant in Miami to receive the achievement for Best Latin Cuisine.
This distinction comes as no surprise, as Rodriguez raises the bar when it comes to seafood and ceviche and takes Nuevo Latino cuisine to new heights by infusing his Cuban roots throughout his dishes with bold Latin spices. The expansive yet warm, 200-seat, beachfront restaurant is the Bentley hotel's best kept secret, and includes two full bars, a ceviche bar, wooden mermaids, tropical plants and seafood supplied by environmentally responsible fishermen and fish farms.
Chef Rodriguez explained, "If I can find purveyors who ensure the products we get are responsibly grown, fished, picked, and so on, then I can feel good about the food on the plate and so can my guests."
"We strive to provide guests of every age with an entertaining experience from start to finish," he said.
When asked about winning the AAA 4 Diamond Award, Rodriguez shared: "We are very excited and honored to be added to the list to those deemed worthy of the AAA 4 Diamond Award, given to a small group of the highest rated restaurants in Miami Beach. I am also proud to represent the Latin community as the only Latin inspired restaurant to be included on the list. It's always been something I strive for, to serve the #1 best Latin cuisine in Miami Beach."
So the next time you crave fresh seafood, served in a sexy setting just steps from the sea, head to De Rodriguez Cuba - D-Rod's got you covered.