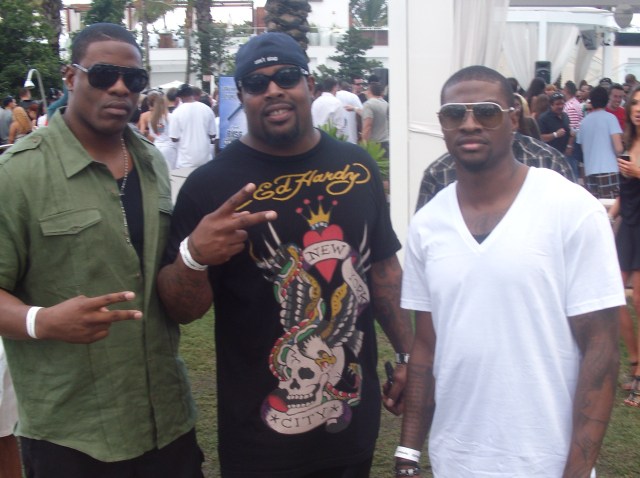 Bengals' star Terry "Tank" Johnson, after Chris Henry's tragic death and a heartbreaking first round playoff loss, finds temporary respite in Miami.
"It's like visiting another country within America," said Tank. "It's the perfect place to get-away."
So, he ventured to an exclusive pool party at Miami Beach's posh Fontainebleau Resort on Wednesday, where his equally controversial and enigmatic teammate Chad "Ochocinco" Johnson alongside Ludacris and Terrell Owens were hosting NFL royalty.
The jovial and all-around gracious linebacker invited NiteSide to tag along.
"I love this city bro. There's a little bit of everything here," said the Gary, Indiana native as he barreled through the crowd to embrace peers, most of whom spend Sunday evenings dodging Tank's ferocious hits.
"What's up folk? These are my boys right here," boasted Tank, as he gave daps to Vikings wide receiver Bernard Berrian and Bears' defensive end Adewale Ogunleye. All three played on the Bears team who came to Miami for Super Bowl XLI, a game that Tank nearly missed due to gun charges.
The trio's reunion was interrupted by super agent Drew Rosenhaus, who like everyone else present congratulated Tank on signing with Cincinnati since leaving Dallas.
But by now, Tank attention was more focused on the stage, where a sultry Brazilian and an equally attractive Midwesterner were gyrating for "how low can you go" honors, coaxed on by Ludacris and TO.
"Ya'll seeing what I'm seeing?" asked Tank, heading towards "no. 85", whose cabana was surrounded by TV news cameras.
"It's just good to be home," Ochocinco told the intrepid bunch. "There's no place like Miami."
Added Tank: "Yep, this is a really special city."