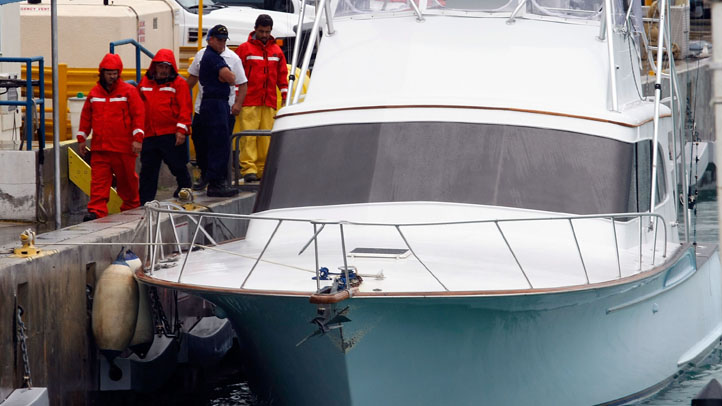 Phony pirates. Gruesome murders. An FBI investigation and courtroom drama. All comprise the storyline for Miami author Carol Soret Cope's new book Murder on the High Seas: the True Story of the Joe Cool's Tragic Final Voyage. The book tells the real story of the men who killed four people aboard the Joe Cool, then tried to flee to Cuba before they ran out of gas. The killers claimed pirates attacked and killed their captain, his wife, and the other crewmembers. Cope was able to get insider details about what actually happened in Miami on a sunny September weekend in 2007.
What interested you in writing this story?
I was especially attracted to this story because of the initial mystery involved: a "ghost ship" simply disappeared on a short trip to the Bahamas? So my curiosity ran rampant, because of the "haunted" quality of the story as it first appeared in the press, and also because I love the ocean and anything to do with it. Later, I learned about what really happened in the press, like everyone else, which only raised more mysteries for me: How could these young people living on Star Island, THE most exclusive address in South Florida, lose their boat—and their lives—so close to home? What happened to them? Who could have done such things and why?
How did you find information or a background story for this?
Aside from press accounts, I learned about the "behind the scenes" stories and personalities, and the answers to some of my questions, by attending the two murder trials in federal court . Since I am a lawyer, it was not difficult for me to find out where/when the hearings and the trials were taking place. As you know, we have open public trials in our justice system, so I just went into the courtroom and hung out with the "real" journalists who were covering the story. In the courtroom, I also met some family members of the victims, who turned out to be wonderful people who were suffering a terrible tragedy.
How long did it take to write the book?
This book took me about two years to research and write. The criminal trials alone, including a federal appeal, took nearly 18 months and the custody case in Miami Family Court lasted nearly three years. I concluded my research with a chilling, face-to-face interview with one of the murderers in a federal maximum security prison in Louisiana, which is one of the most deeply disturbing things I have ever done.
What's next for you?

I really haven't thought about another book yet, as I'm still too involved in this story. I am always inspired by real-life events more than anything I could dream up in my imagination, so I guess I need to recover from this awful tragedy before I can think about another book. In the future, maybe I'll find something like that which isn't so tragic. I'll be watching and waiting for the right story!
Will you be doing a book reading or signing in Miami? Where and when?
I will be doing a book signing at
Books & Books
(date TBA) and I will be speaking
at the Miami Book Fair
in November, the best event of its kind in the world. I also have some private speaking engagements for the Coral Reef Yacht Club, the Biscayne Bay Yacht Club, the Mystery Writers of America/Florida Chapter, and Sleuthfest, the MWA Florida mystery writers conference which begins Thursday in
Deerfield Beach
.