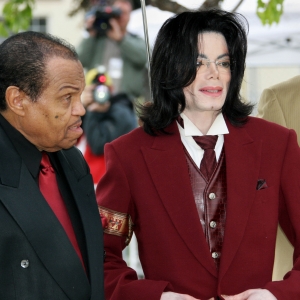 The Jackson family wants an independent autopsy done on the body of Michael Jackson, Los Angeles County Coroner's Investigator Brian Elias said on Saturday, according to CNS.
The family reportedly told his office before the star's remains were released that they wanted to have the second autopsy done, following deferred results from the first autopsy on Friday afternoon.
VIEW THE PHOTOS: Hollywood Remembers Michael Jackson
"The medical examiner has ordered additional testing such as toxicology and other studies," Craig Harvey, Operations Chief for the LA County Coroner's Office, told reporters in Los Angeles on Friday, noting that results could take four to six weeks.
According to Harvey, the first autopsy revealed no signs of foul play or severe trauma.
VIEW THE PHOTOS: Michael Jackson: The Life Of An Icon
However, the family is wasting no time — TMZ reported on Saturday afternoon that the second autopsy is already underway in Los Angeles.
The Rev. Jesse Jackson also voiced the need for a second autopsy on Saturday after having visited the Jackson family on Friday.
"They need an independent autopsy to get even more answers to questions that are now being driven by the gap between when Michael was last seen alive and [when] he was pronounced dead day before yesterday," he told CNN, adding that he was suspicious of Conrad Murray, the doctor who was with the pop superstar at the time of his death.
VIEW THE PHOTOS: Michael Jackson & His Superstar Friends
"The doctor's bizarre behavior here is creating all these suspicions," he said. "There are lingering questions, such as: 'How long had he stopped breathing? How long had he been unconscious?'"
Related Content from AccessHollywood.com:
PLAY IT NOW: Michael Jackson's Death: What Really Happened?
PLAY IT NOW: Los Angeles Coroner's Office: Michael Jackson's 'Cause Of Death Deferred' (June 26, 2009)

MORE ACCESS ON THESE TOPICS: Michael Jackson - Deaths - Music - TV One - Celebrities

Copyright NBCAH - Access Hollywood