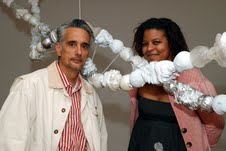 At Diaspora Vibe Gallery, Rosie Gordon-Wallace is busy grooming Miami's next generation of ground-breaking artists.
"We're an incubating space," Rosie said.
If all goes according to plan, the Jamaican native who has worked tirelessly to keep Diaspora's doors open said she hopes to cultivate talent comparable to that of Jean-Michel Basquiat, the iconic Haitian neo-impressionist painter discovered for his graffiti on buildings in Lower Manhattan.
"It's a shame he didn't get the admiration he deserved until after his death," said Rosie, Diaspora Vibe's curator.
For the past 14 years, Rosie has spent many nights applying for grants and seeking out donors in order to house a safe place for Caribbean and Latin American artists to showcase their work at the quaint and vibrant space located in the heart of Miami's Design District.
"At Diaspora, artists can come and explore their ideas," said Rosie.
Caribbean artists were coming back to Miami after graduating from prestigious schools with nowhere to show their work, said Rosie. So she held artist gatherings at her home, restaurants and other neighborhood. Piccadilly, a legendary Design District haunt, was a favorite before her group moved to Diaspora Vibe.
On Wednesday evening, one of the gallery's recent exhibits depicted just the type of experimental work Diaspora thrives upon. The piece NI ANGE NWA or Little Black Angels by Jacquenette Arnette and Hugo Moro was inspired by the duo's trip to Haiti in December. It draws a parallel between the absence of black angels to negative media portrayals of Haitians in light of the recent earthquake.
Rosie added: "I'm hoping mainstream galleries will start saying, 'We have to stop by Diaspora to meet young artists like Jackie who are bursting at the seams with talent and ideas.'"