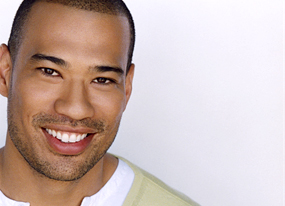 There is a good chance when you're driving home in bumper-to-bumper traffic day after day, you turn on Miami's Y100 to hear Michael Yo and his crew makes the ride just a little bit less stressful. Because he's so very entertaining, of course. And now, you can catch the funny man in person because he is getting behind a new kind of mic.

You have seen him on E! News, Chelsea Lately and as Hollywood expert on CNN, but now he is adding another job to his already impressive resume: comedian. What started out as a dare from Chelsea Handler herself, Yo will be headlining his "second hometown's" Miami Improv Wednesday night in Coconut Grove for the very first time. So before heading back to the 305, he told us what fans can expect from his stand-up and we couldn't but help ask about those Kardashian sisters.

You bounce back between Miami and Los Angeles a lot, correct?
I go back and forth a lot. I have a radio studio in LA at the E! studio next to Ryan Seacrest and one in Miami as well. Right now, I am spending a lot more time in LA. Because of E! and Chelsea Lately, I have to be back here a lot. But I can't lie, I miss Miami; It's my second hometown.

Your schedule has to be pretty full with hosting, your radio show, appearances on Chelsea Lately and now a comedy tour.
It's a lot of sleep, honestly. All of my friends make fun of me because I got to bed at like 9:30 p.m. and wake up at like 5 a.m. When I wake up, I just start working. I do my Miami radio show, E! news, Chelsea Lately, I have a couple TV shows in production right now and now stand up. It's just being on top of your game and getting some sleep.

This new venture as a comedian is new for you. How did this idea come about?
I never thought I would do stand up comedy. Then when I started doing Chelsea Lately, when I would go places for interviews, people would ask me, "Where are you performing?" And then one night I'm back stage with (comedian) Josh Wolf and he's like, "Dude, you need to do this. Just try it. Your black and Asian, just talk about growing up!" And with a care from Chelsea, I had to do it. Miami Improv let me do fifteen minutes, then next time I opened up for the Wayans Brothers and they told me I was pretty good. I really, really enjoy it, too. Here I am four months later, I guess.

What can fans expect from your show at the Miami Improv?
It's the first time I am ever headlining a show. I am bringing along some funny people from LA and some great local comedians. I talk about racism, celebrities, my Asian mother and her crazy name, which is Kum. What I try to do is tell stories about me and hope that I make you laugh. I want fans to leave with a more personal connection to the show.

You have interviewed anyone and everyone. Who are your favorites?
Will Smith for sure. The thing about Will Smith is that when you interview most celebs, they are just there for the interview and nothing else. Will is there for the interview, and he will promote what ever he is promoting, but he just goes above and beyond. He's very personal and he himself makes the interview great. Prince was awesome. Ben Stiller was interesting because you walk into the interview thinking he is going to be very "Zoolander," and then he was kind of serious.

I know you have worked a lot the Kardashian Sisters. Did you get an invite to Kim's wedding?
I went to Khloe's wedding, but no, I didn't get an invite for Kim's wedding. I have to bring that up when I am interviewing Khloe and Lamar later today. I am really close with Khloe, not so much with Kim. Khloe and I have become good friends; we talk about once or twice a week.