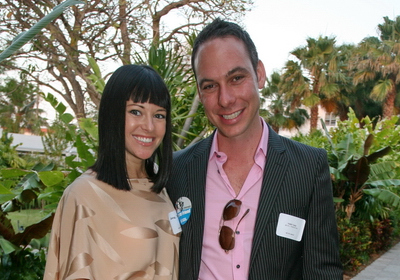 Only in Miami can you turn a drinking-related holiday like Cinco de Mayo into a corporate schmooze fest. That's simply business as usual in this city, said one of the hosts of last night's Metro Mixer at The Standard Spa.
"Everything in Miami is a little crazier," said Anne Owen, Miami Magazine publisher. "It helps networking with a margarita in your hand."
Corporate bigwigs like architecture powerhouse Chad Oppenheim and Metro 1 Properties President Tony Cho co-hosted the oceanside shindig, where the large Miami industry crowd dished out business cards as quickly as they consumed the complimentary margaritas.
"Especially in Miami, not all but a lot of business gets done after dark," Owen added. "We do so many events that are based around partying and nightlife, and I think it is nice every once and a while that there is something smart and intelligent worked in."
She added, "Miami's not a hard place to love, and as long as you manage it and you can fit in business and play, I think it is a good place to live."
What's not to love about a city where you can score your next job interview with a side of tequila?