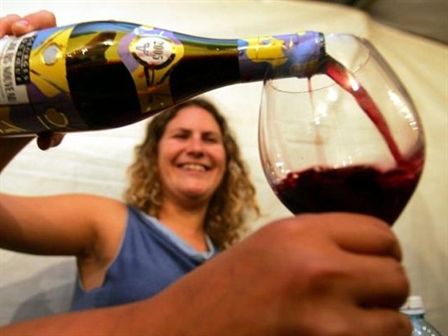 It's Saturday--you deserve a nice glass of wine.
But why not make it a super Saturday and have more than a few glasses of wine from all over the world? Throw in some delicious cuisine and you've got the makings of the Las Olas Food and Wine Festival.
Benefiting the American Lung Association (although, after the fact, you may wish it was benefiting some liver association instead), the Las Olas Food and Wine Festival is an extravaganza of the food and vine variety.
With more than 60 participating restaurants, you can grab a bite from Lola on Harrison or 3030 Ocean, then top it off with dessert from We Take the Cake. And you can wash them down with libations from more than 30 different venues.
Want a good glass of merlot? Today the Bonterra Vineyards VIP Reception kicks off from 6 to 7:30 p.m. Expect wine, more wine and a very good time.
There are also demonstrations for those who want to learn something from the haze of their drunken stooper and gluttonous bloat. From Asian and Caribbean cuisine to master mixologists, even reality show chefs, there's a little something for every one of your 1,000 taste buds.