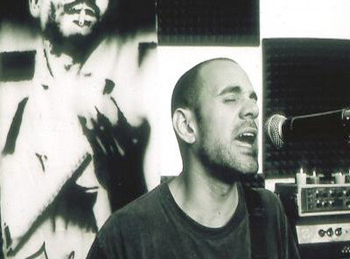 Nil Lara's music and performances have helped keep the local music scene vibrant for over a decade. From creating a Local's Only a radio program on WVUM to performing at the legendary early-'90s Miami Beach institution Stephen Talkhouse, he's performed not only with big names like Natalie Merchant and Ben Harper but with Miami's best and most influential talents.
Making music is "just an internal drive I've always had," he said Saturday, while playing Design District venue The Stage. "It just makes you feel good."
Lara's been getting more and more calls lately from local spots.
"I can always play at Churchill's whenever I want," he says, half-jokingly, "'cause that's my hometown bar."
After signing with Capitol Records and releasing Nil Lara in 1995, he spent the next two years intensively touring.
"After that, I didn't want to make another record," he said, citing burnout from the highs and lows of being on the road. But after a long hiatus, he released a DA in 2004, a less traditionally accessible album with broad influences including the Beatles, the Rolling Stones, Fela Kuti, and music from Mali.
He describes his music is often experimental, but "basically rock 'n' roll with some roots, whether they're Cuban or African or maybe some Haitian."
Though his musical output is diverse in its influences and sounds, he typically performs only rock and roll live. A beautiful Afro-Cuban song like "Agua e Manatial" is one you won't hear him perform onstage, you'll have to turn to the Internet to enjoy it.
"It's about wanting the best for your people," he explains.
Though he's passionate about his music, Lara's main focus right now are his two children.
"It's like a whole new thing," he said, offering up "don't be afraid" as advice to new fathers.
What's next for Nil Lara? He's thinking about publishing his writing because when he reads what he's written over the years, "I'm like, wow that's cool. How did that happen? When did that happen?"
He's also interested in a possible ten city tour, but for now, you can catch him next at Bougainvillea's on July 2.