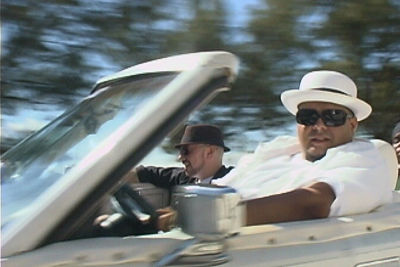 Tobacco Road's Oski Gonzalez isn't only set on spinning to help Save the Ta-Tas. He's also got a thing for go-karts, heavy metal and Key Largo. Niteside asked the nightlife op to give us the goods on his tri-county takeover.

You're not just Tobacco Road's resident DJ, are you? I would dream about playing at The Road with my band The Oski Foundation and got my first gig there on 9/9/99. Then I was offered to DJ on Fridays and shortly thereafter given a Thursday night to showcase young upcoming bands. Now I am part of the A Team that books all the shows and handles all the promotions for Tobacco Road.

I also produce, promote and host several uber local music festivals -- at The Road and other venues -- with my partner Queen Of The Scene. We call them QOOL SHOWS, and we feature a ton of local bands on multiple stages all with a different theme. We are doing The Super Summer Jam 4 on Friday June 24th at The Road with 10 super hot bands. As the name implies, this will be our 4th year doing this festival there.

Don't you two also provide those kinda services down in Key Largo? Road owner Pat eats at this place in Key Largo called Pontunes; he likes the Ceviche and Mussels there. One day he strikes up a conversation with the venue's owner about music and bar stuff. Pat gives the guy my number and two months later my partner Queen Of The Scene and I put together Largopalooza, which was the biggest music festival Key Largo had ever seen. This past March 12th we marked the festival's 2nd anniversary with over 40 bands from all over the country.

Now I book all the bands at Pontunes and I DJ there as well. On June 18th from 2pm-10pm we're doing The Key Largo Summer Splash with Spam Allstars and you're invited. I'll be spinning and a local Key Largo band called Birthday Gang will open the show. It's all ages and even pets are welcome.

Rumor has it you're branching off to Broward too. That so? Yep. On Saturday May 14th Queen and I launched The Xtreme Indoor Karting Music Festival in Fort Lauderdale with 37 bands on four stages. I have to spread my hustle to make sure I have no conflict of interest with The Road in Miami and Pontunes in the Keys, so we went north.

That has a rather cool backstory too, doesn't it? I have a buddy named Mike McSween from a band called 1000 Pounds Of Thrust. He introduced me to this cool cat named Doug Campbell, who is both one of Sugar Ray Leonard's right hand men and the person who puts on events at Xtreme Indoor Karting in Fort Lauderdale. This place has everything a man-child would want -- race karts, an arcade, a full bar and putt putt golf.

The Xtreme Music Festival attracted over a thousand people, so now we're following it up with what is looking to be the biggest metal fest in Broward. It's called The Xtreme Pedal To The Metal Festival, and it'll go down on Saturday July 23rd . Again I will host and DJ, and again you're invited. It's gonna be epic!

Between Collier, Miami-Dade and Broward Counties, you've got South Florida locked. Do you ever sleep? I do sleep, from 3am till 6:45am. I have been doing that forever.