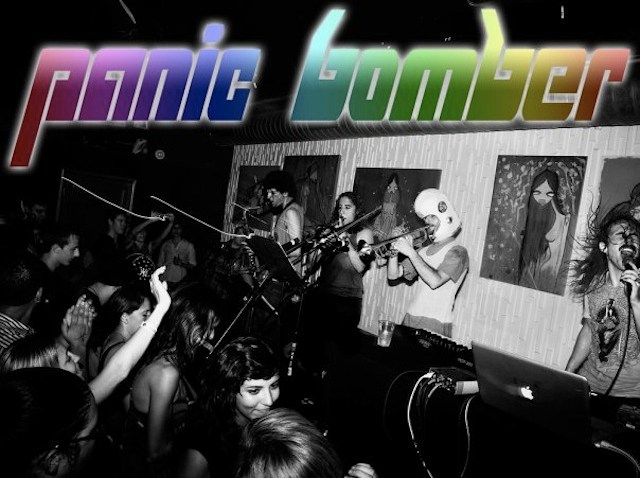 Panic Bomber is one of the few popular acts in Miami that isn't played out and yet he's one of the few performers we'd like to get totally tired of seeing and hearing. Luckily, this weekend, with a guest DJ spot on WVUM and a performance at Vagabond, there will be enough Panic Bomber to appease even the most enthusiastic fan.

We're not the only fans, The Miami New Times recognized Panic Bomber as the 2009 Best New Electronica Artist. Panic Bomber is the pseudonym of talented musician and University of Miami Alum Richard Haig. Don't let his rock and roll look confuse, this guy knows dance music and consistently brings the beats.

Haig doesn't make tired Paul Oakenfold, Ibiza '99 electronica. You also shouldn't feel it necessary to dust off your old JNCOs and Vicks VapoRub to attend a show. Call it electronic art pop dance music or art dance electronic pop or make up your own name. With a full horn section and live singing, it's hard to pin down the sound and spectacle emanating from the stage when Panic Bomber performs.

Tonight, starting at 7 p.m., Haig will be the WVUM DJ for Electronic Kingdom for two hours of sweet music. Don't expect to hear all electronic or dance music, this will be more like two hours of hanging out at Richard's house, an eclectic mix of whatever catches his fancy.

Think of it as a warmup for Friday night's performance, which starts at midnight, at Vagabond. Panic Bomber has promised to fully bring it and then some. As usual, it will be an incredible, high energy performance, but feel comfortable expecting a little more this evening, expect a maddeningly awesome time.

Panic Bomber will be releasing a full length album on December 15, "Getting On My Mind." Pick it up at Sweat Records.

By the way, glow sticks are again acceptable, but only while Panic Bomber is on stage.


Read more of Liz Tracy's Miami missives on her blog, Miami, bro.